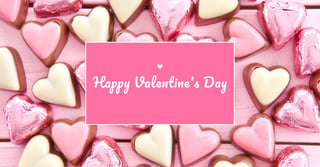 More than half of all Americans (54.8%) plan to celebrate Valentine's Day this year and they will rack up an amazing $19.8 Billion (with a B!!) dollars in spending according to the National Retail Federation. It's no wonder that restaurant sales will also see a sweet amount of business that day!
It's the second most popular holiday for dining out behind Mother's Day. Who doesn't think of Valentine's Day as a candlelit dinner event? The National Restaurant Association estimates that roughly 25% of us will dine out on Valentine's Day and I can assure you these restaurant brokers will be part of the crowd.
When choosing a Valentine's gift, it looks like food is truly the way to a man or woman's heart. Forget the age old claim that diamonds are a girl's best friend. When the National Restaurant Association surveyed individuals to ask what their love interest should give them for Valentines, nearly a third of those surveyed by the National Restaurant Association said they want restaurant gift card. That was followed by the traditional standbys -- jewelry, cloths, flowers, chocolate and perfume.
Where's everyone eating? Remember, the restaurant brokers said it's all about the candlelight dinner and those surveyed agree. They told the National Restaurant Association they want pick their companion's favorite restaurant follwed by 20% who choose a restaurant for a romantic atmosphere.
Valentine's is not a holiday where promotions are top of mind. Those responding to this national survey say their last choice is a restaurant offering special menus or promotions, restaurants picked by their companion, or a restaurant they haven't been to before.
Each city has their own best Valentine's Day dining options. If you want to check out what the experts are saying, Gayot has produced a city by city peek at the best Restuarants for Valentine's Day at this link and they are listed by city. In Atlanta, where We Sell Restaurants launched their brand, we see a lot of our favorites on the list. Gayot begins with Babette's Cafe at 573 N. Highland Ave, NE in Midtown. Cafe Alsace in Decatur (121 E. Ponce de Leon Ave.) is second on the list. La Grotta at Peachtree House Condominium (2637 Peachtree Rd. NE) also makes the list. Intimate dining for romance-bent couples or small groups of friends are both possible in the former Quinones at Bacchanalia space at Star Provision (1198 Howell Mill Rd. NW) on the westside makes the cut along with Ray's on the River at 6700 Powers Ferry Rd. NW. Ray's will also top the best brunch choices for Mother's Day and the restaurant brokers have enjoyed this one many times. The last restaurant in the Gayot top ten best restaurants for Valentine's Day is Restaurant Eugene at 2277 Peachtree Rd. NE. What's your favorite romantic restaurant?
As a restaurant owner how do you prepare for the busy holiday? It all starts with planning. Plan early with your team and brainstorm ideas. Established timeline and schedules that will have everyone on tract for the second busiest day of the year. Along with planning comes communication. They only way a team can be well prepared is to be looped in to what the plans are. Set expectations up to and including the busy day. Menu prep is another hard decision that needs to be made. Are there select dishes, special pricing, limited availability? As part of the planning make sure that add to the calendar when a food order should be placed for any special holiday items. Of course don't forget to market your holiday specials. Valentine's Day tends to be busy a week up to the actual day with approximately 30% more guest. Most people tend to plan last minute for Valentine's Day so focusing on a shorter marketing strategy can pay off big.
You may accommodate to those that have been there time and time again. Sell a gift card for a future romantic visit. Have those once a year specials could draw new or repeat clients in. If everything is planned, prepped, announced and marketed correctly the results can be a restaurant earning of 3 times.