This week the restaurant brokers are talking to chefs that are known for their extreme cooking. Unusual proteins, extraordinary conditions and more are on the menu as we talk to those who cook in extreme conditions. Join us as we interview one of Food Networks Extreme Chef and another chef who take his food straight from farm to fork.
These talented chefs that take their food to the edge and back tell the restaurant brokers that "We're not just cooking food. There's a lot that goes into it. Ultimately, we're artists." These artist share the stories, tips and techniques for becoming a successful chef with a following. Chef Kristi Ritchey, a contestant on season one of Food Network's Extreme Cuisine says, "Any successful chef is in some way an extreme chef."
These two talked about the industry as well as the extreme route their careers have taken. Chef Ritchey says that "Food is like the Fashion industry" and reminds us to "Remember when Kale was just for dressing the salad bar."
Tune into the entire restaurant radio show live on Atlanta radio station WGKA 920 The Answer on Saturday at noon or the rebroadcast Sunday at 1 PM on Biz 1190.
This Week's Guests:
Mark Ulrich

From Philadelphia but now resides in Mickleton, NJ. He currently is the executive chef at Methodist hospital by day and the Head Chef at Cecil Creek farm on the weekends. Mark is married with 4 children and 1 grandson.
Mark attended THE RESTAURANT SCHOOL in Philadelphia. Mark graduated from there in 1989 with an associate's degree in chef training. He says he was influenced early on by his grandmother and actually a lot from my Italian friends, and families who also cooked a lot. He soon gained an interest from television shows on public broadcast networks and started reading magazines and books. Mark decided to attend cooking school right out of high school and he's been cooking ever since.
Kristi Ritchey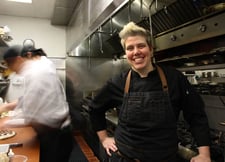 Kristi Ritchey's culinary quest began back in her hometown of Williamsport, Pennsylvania, when she started working at a quaint Italian restaurant in the city. The owner recognized Kristi's potential immediately and encouraged her to peruse a career in food. Straight after graduating with a degree in culinary arts from Pennsylvania College of Technology, she moved to California's Napa Valley, where she quickly found a position at the prestigious Pinot Blanc restaurant, operated by the Patina Group.
Studying under Chef Greg Stillman, Kristi swiftly elevated herself within the restaurant to the position of Sous Chef within her first year. Soon after, the Patina Group relocated Kristi to Southern California to help open Eat at The Desert, inside the Hotel Zoso in Palm Springs, and then Eat on Sunset in Los Angeles.
Taking notice of her skills, restaurateurs Sandy Sachs and Robin Gans, sought her out and asked her to join in planning and opening of Murano Restaurant and Lounge in Los Angeles. Contributing to the initial kitchen layout, menu design and more, she was able to help create the restaurant's concept and mold what it is today. While at Murano, and at the age of 26, LA Direct Magazine named Kristi one of Los Angeles' top chefs.
After Murano, friend and celebrity chef Jonathan Rollo asked Kristi to help in the opening of Greenleaf Gourmet Chopshop in Beverly Hills. Kristi accepted the position of Corporate Chef and was again part of developing the menu and overall concept for a new restaurant. Throughout her time with Greenleaf, Kristi was a frequent media star, with appearances on The Food Network's "Extreme Chef," NBC's weight-loss series "The Biggest Loser," as well as several appearances on "Good Day LA." During this time she was also named to OC Metro magazine's 40 Under 40 list.
Kristi's passion for cooking is more than just her career – eating healthy has become her lifestyle. She brings her creative fusion of Italian and French cooking styles with a fresh twist to the West Shore's menu. Executive Chef Kristi explains, "I want to focus on fresh, local, seasonal products that we combine to exceed our guests' expectations for flavor and presentation. Whether a simple salad, soup or a composed entrée, it has to be the best.
About We Sell Restaurants
We Sell Restaurants is the nation's largest restaurant brokerage firm specializing in restaurants wanted (restaurants for sale), leasing a restaurant and franchise restaurant resell transactions. The We Sell Restaurants brand is known nationwide for professionalism, industry knowledge and unmatched service. They can be found online at www.wesellrestaurants.com. The firm is franchising their brand nationwide and has offices in Florida, Georgia, Colorado, Tennessee and South Carolina.