The latest franchise expansion deals have been announced and the result is pizza, pizza, pizza. The Restaurant Brokers are pulling just some of the latest development deals together in this report from multiple sources and the counts are stunning. Pizza growth accounts for the lion's share of most development transactions tracked in the last thirty days. That's hardly surprising since it's also turning in some of the best sales reports in the industry. Fast casual is outpacing the total industry by a large margin and pizza is a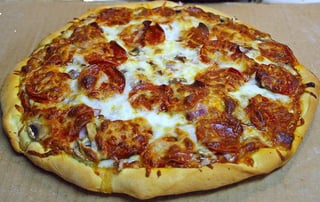 t the top of the heap according to sales tracking by both Technomic and Black Box. Here's some of the pizza deals we're hearing about and the counts are impressive.
Kingdom Pies, LLC, has opened its second unit of the popular and expanding Pieology concept in Jacksonville, Florida. They are also scheduled to open a Fayetteville, Arkansas store in the coming weeks.
Donatos Pizza's opened its first Tennessee location in Nashville just six months ago and has now signed two development agreements totaling five restaurants. That's according to the Franchise Times deal tracker. The magazine also reports that Steve and Spence Sheldon, have committed to opening two Donatos Pizzas on the northeast side of Nashville while Dr. O.T. and Angela Gordon signed on for three locations in Nashville, the first of which will be in Murfreesboro.
The pizza passion continues with PizzaRev, a fast-casual pizza concept backed by Buffalo Wild Wings, signing a franchise agreement to bring the concept to Louisiana. Longtime restaurateurs and business partners, Cassidy King and Mark Florsheim, will lead the development of PizzaRev throughout northern Louisiana.
We warned you that pizza was moving fast and the development continues. Rocky Top Management group, is spearheading Toppers Pizza's expansion into Colorado and Wyoming. The partners have agreed to open 13 Toppers Pizzas, with plans for additional development to follow. The Fort Collins area in Colorado is the first targeted area. Rocky Top Management is led by Todd Geatches and Clayton Hartman.
Topper's also signed two additional multi-unit development franchise deals that will ultimately open up another 28 new locations for business. Six of those units will be in North Carolina and 22 will be located in Virginia and Maryland. Toppers Pizza's strong second quarter builds off the momentum it created from one of its most successful years to date. In 2015, 73 percent of Toppers' stores broke sales records. That impressive growth led to the brand being named one of the top-five fastest-growing brands in the entire limited service pizza restaurant category of the 2016 Technomic Top 500 Restaurant Chain Report, one of QSR Magazine's Top Franchise Deals and one of the top food and beverage franchises by the Franchise Business Review.
Firenza Pizza, a fast-casual chain that offers custom, made-to-order pizzas, has signed a development deal with Emily Wagner for five new stores in North Carolina over the next four years. Company plans call for having as many as 10 area locations over the next several years. Wagner has a degree in business and foodservice and was a stay-at-home mom for 20 years before rejoining the workforce to manage her family's oil, gas and mineral assets. Wagner decided to follow her passion for the food service industry and get back to her roots in the restaurant space with Firenza.
At some point, this trend towards pizza is going to reach saturation levels and these units will flip over to the restaurant brokers for sale but for now, the growth is nothing short of spectacular. Even buffet pizza concepts are in on the growth.
Fast casual buffet concept Cicis has also announced an acceleration in newly executed franchise development agreements that will result in more than 70 new restaurants being added to the brand's nationwide network through the end of 2017 in 53 markets across the nation. This on the heels of reporting the 13th consecutive quarter of same-store sales growth and the signing of 32 development agreements over the last two quarters. This represents more than 70 new restaurant commitments in 53 markets across the nation. In addition, eight new franchise partners have joined the Cicis family since Nov. 2015. New restaurant growth is projected to be particularly strong in Dallas/Fort Worth, Denver, Kansas City, Orlando and Central Texas.
Americans cannot seem to get enough pizza but the trend is bleeding over into fast casual Italian that goes beyond the pie.
Fazoli's Announces Record-Breaking Month with Nine Franchise Agreements to Open 22 New Restaurants Nationwide. Fazoli's, America's largest fast casual Italian chain, announced a record-breaking month in July with the signing of nine multi-unit and single-unit franchise agreements to develop 22 new restaurants nationwide. As part of the agreements, Fazoli's will develop new restaurants in cities, including Dothan, Alabama; Snellville, Georgia; Southern California; and Hazard, Kentucky; Sioux Falls, South Dakota; Memphis, Tennessee; McAllen, Texas; Chicago and Central Indiana. This announcement comes on the heels of significant growth for Fazoli's, including 13 consecutive quarters of same-store sales growth – with franchisees boasting a 5.1 percent year-over-year same-store sales increase in July. In addition, Fazoli's franchisees are experiencing nearly three times the industry average growth rate, with new franchised restaurants setting company-wide records.
The count of all this expansion? In this single report we show Pieology adding 2, Donato's adding 5, Pizza Rev (unknown but at least one). Toppers with 63, Firenza at 5, Cici's at 70 and Fazoli's at 22 NEW units. That's an unbelievable 168 new units announced in a single month with most to occur in 2017.
Where will all this growth end? There are analysts predicting that the pizza surge in sales is related to the election cycle. They foresee more Americans seeking a "dine at home" alternative to eating out as pizza delivery surged last month with Papa John's. That may just be an excuse for our overall love of comfort food which is now irretrievably linked to a great crust, sauce and lots of toppings.
Continue to check our blog as the restaurant brokers report on the latest trends and happenings in the restaurant business or visit our restaurant for sale listings online at this link.