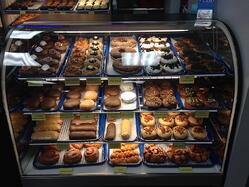 Buy this Donut shop for sale by the Restaurant Brokers and pay no royalties with this licensing agreement.
This
donut shop for sale
is part of an industry turning out more than 10 billion donuts a year. Buy this donut shop for sale and get a taste of these sweet numbers! Freshly made in the store, these donuts sell out every weekend.
This donut shop for sale by the
restaurant brokers
is 1700 square feet inside and the rent is a reasonable $1400 a month. Fully equipped commercial kitchen with a drive thru window allows for sales on the go. This kitchen features items such as a convection ove, fryers, refrigeration and more.
All recipes will transfer in the sale of this donut shop for sale and the owner will stay on for two weeks to help ensure a smooth transition. With this donut shop for sale in
Georgia
you operate under a licensing agreement instead of a franchise. You get the benefits of a large operator without all of the costs and ongoing fees. You pay no royalties and don't contribute to any advertising fund; YET you CAN use their federally registered product and name recognition. Now that's a winning scenario!
This donut shop for sale has a menu beyond the basics. They offer breakfast sandwiches, bagels and various hot beverages to suit all taste buds. The current owner is looking for the next owner operator and has asked the Restaurant Brokers to sell his donut shop for sale.
Gross sales last year reached $166,000 and this year are on track to top $180,000. This owner has created a turn-key business, just waiting for the next owner operator.
The current operating hours are an early bird's dream! Keep the existing hours and with a little more production, sales will increase, especially on weekends.
​
Sign the confidentiality agreement to view the location and pictures. If this sounds like the business for you, contact the Restaurant Brokers today.