We Sell Restaurants announces the graduation of two new agents from We Sell Restaurants University this week. These newly minted Certified Restaurant Brokers© successfully completed a three week curriculum that is one of the most intensive in the business brokerage field.
Phase one of the program relies on the award-winning book Appetite for Acquisition as the textbook and companion piece to a 50-page manual with exercises, questions and information focused on developing knowledge about the mindset of the buyer. Phase two of the University is a week-long practicum and webinar series on the proprietary software tool developed by the firm, the B.O.S.S. ©. The B.O.S.S. © or Broker's Operations and Sales System is the nation's most advanced web platform for business brokerage. The proprietary tool developed by We Sell Restaurants functions as a customer relationship management (CRM) tool, a seller and listing live database tool and the only "Hot Report" in the nation, tracking the most important activity and deals for a broker to focus on. Students engage in daily webinars and apply their knowledge with daily and exercises and testing assure their competency on the platform.
Phase three of the acclaimed program, the Classroom curriculum is delivered firsthand by Eric and Robin Gagnon, the country's preeminent restaurant brokers. This talented duo work through a 40-hour program that includes blended learning methods such as role playing, exercises and slide show delivery. At the conclusion of We Sell Restaurants University, the students test and demonstrate overall competency in all three phases and achieve a minimum score of 85% before begin achieving Certified Restaurant Broker © status.
The We Sell Restaurants classroom training was developed by an Donna Carson, an Instructional Designer with over ten years' experience designing and developing training curriculum for Procter & Gamble, utilizing nstructor-led, web-based, and blended learning methods to facilitate change. She implemented and managed the first Learning Management System for Convergence Marketing and developed a library of e-learning modules for 5000+ retail merchandisers and sales employees. In addition to Proctor and Gamble, her client list includes Google and now, We Sell Restaurants.
Eric Gagnon of We Sell Restaurants says, "Graduating new agents from this program is one of the most satisfying aspects of the business. Knowledge and the application of the correct business practices are what sets our brand apart in the industry. This traning is a key element of that mission."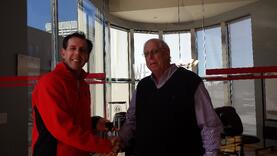 Everett Rashotskyfrom the South Florida office of We Sell Restaurants is shown accepting his award as a Certified Restaurant Broker. Recruited to join the firm by Franchisee, Ken Eisenband, Everett has an extensive business background. He is an acknowledged foodie and restaurant connoisseur, frequently contributing to the blog, Miami Eats! Everett is a licensed salesperson in the state of Florida. Eric Gagnon, President of We Sell Restaurants is shown presenting Everett with his award for his work during We Sell Restaurants University.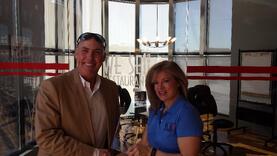 George Hilliard of Roswell Georgia is shown accepting his award as a Certified Restaurant Broker from Robin Gagnon of We Sell Restaurants. George relocated from Vail Colorado and is joining the corporate office of the firm based in Atlanta Georgia. A native of the Roswell area, George has a background in the restaurant and bar business as a multi-unit operator. He was one of the original founders of Buckhead Saloon in Atlanta and expanded the brand to multiple cities. In Vail he served as a transaction broker for restaurateurs seeking additional space.
_______________________________________
We Sell Restaurants is the nation's largest restaurant brokerage firm, specializing in restaurant sales, franchise restaurant resale and site location for the food service industry. He brand is expanding nationwide as the preeminent authority on Restaurant Brokerage. If you are seeking a career in restaurant brokerage, visit our website at this link for more information.