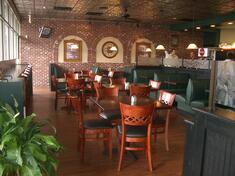 This Georgia Coffee Shop and Bakery for Sale features great bagels and sandwiches. Easy to run operation with limited hours is ready for new owner.
Coffee Shop and Bakery for sale Metro Atlanta serves up fresh cuisine with the finest ingredients. Gorgeous location was built sparing no expense. Beaut
The Metro Atlanta coffee shop and bakery for sale location has seen extensive growth in the past several years and this would be perfect for virtually any concept. This is a suburban destination for food and drink as well as family dining. A pastry chef looking to own their own bakery should grab this one and expand the baked goods selection.iful brick wall, tin roof, warm wood seating are all part of the ambiance of this coffee shop and bakery for sale. The owner has created a comfortable and casual setting in a shopping center that is inviting to the demographic community it services with household incomes north of $100,000. Good books and records show sales are that are on-track to reach $400,000 for 2014 while operating only 7-3 Monday thru Friday.
They offer freshly baked pastries, bagels, gourmet coffee, snacks, gourmet sandwiches and salads featuring premium deli meats. Front of house equipped for easy sandwich prep along with a full kitchen.
There's room in the kitchen to grow the production from this Georgia coffee shop and bakery for sale. Very large commercial kitchen has a large hood, flat top, convection ovens and more. Fully compliant 1500 in ground grease trap, walk in cooler and walk in freezer. This equipment could accommodate virtually any cuisine. Fully furnished with tables, seating and all small wares included.
Rent terms for approximately 2600 sq. ft. is just at $6400 per month with CAMS, the going rate for a major Roswell highway adjacent to retail, shopping, residential and office buildings.
Excellent opportunity to increase sales since they are ONLY open for Breakfast and Lunch 5 days a week
.