Restaurant brokers Eric and Robin Gagnon recently interviewed expert guests on the wine bars; small, intimate settings that provide a casual ambience have become increasingly popular with patrons. The We Sell Restaurants show airs every Saturday at noon (12pm) in Atlanta on AM Talk 920 and Sunday at 1pm on BIZ 1190AM (The Wall Street Journal Network) in the nation's 7th largest media market.
Are you wild about wine? Well, you are not the only one. The food and beverage business is honing in on Americas passion for the product. Wine bars are hot concepts that continue to grow. What exactly is the difference between a wine bar and traditional wine service in a restaurant? What represents the wine bar customer? How does their palate differ from the traditional restaurant client?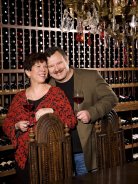 To learn about this and more, Restaurant Brokers, Eric and Robin Gagnon, interviewed Samie Didda, who grew up in Paris, in the Montmatre District. At age 19, he opened his first business, a bakerie called Les Petit Mitrons which is now run by his brother. In 2000, he decided to take a break and travel around the world. He settled in San Francisco and began his career as a restaurateur at Chouchou, a French Bistro in Forest Hill where he met his longtime friend and future Associate, Germain Michel. At Chouchou, Samie and Germain imagined the new concept of a modern wine bar. In 2006, the duo opened Amelie wine bar in San Francisco; fusing the cool American urban with chic Parisian modern, emerging as an irresistible blend of international hip. A second Amelie opened in Manahattan New York in 2012; quickly becoming a West Village sensation. Michel, a new concept is opening in Oakland California; a collaborative effort of Samie, Germain and a new associate Jean-Michel Fabregeon.
Shannon Wiley, owner of the WineShoe, was also part of the discussion. Shannon was born in Stuttgart, Arkansas and grew up in the South. His love of flying led him to a career in the Air Force and the Air Force Reserve and also employment at Delta Airlines. Shannon's wife Nora was born in Honolulu, Hawaii. Her father's military career led her to Missouri where she joined the Air Force Reserve to get through college; which is where she met Shannon. Their Air Force Reserve jobs and family ties kept them in the Kansas City area. There, Nora sold real estate and attended law school while Shannon worked locally in the reserves and commutted to Atlanta for his job at Delta Airlines. Finanally, having retired from the Air Force Reservice, they decided to move to Atlanta and settle in the Castleberry Hill area, a Historic Landmark District located in downtown Atlanta. They decided to open a Wine Specialty Shop aptly named WineShoe.
Americans consumed a lot of wine from this $13.8B industry last year and this trend shows no signs of declining. Restaurant Broker Robin Gagnon asked what does it take to start a wine bar and it seems, according to Shannon at WineShoe, that just with any business you have to have a great plan and "deep pockets" are required to get into the business. To learn more about planning, regulations and other important information regarding starting a restaurant, please check out Appetite for Acquisition; available at www.wesellrestaurants.com and amazon.com.
Restaurant Broker Eric Gagnon asked what's the difference between the traditional wine service in a restaurant and the hot new wine bar concept that's taking over the nation? Shannon stated that "beer is just a drink, wine is an experience". Samie explained that Amelie provides 20 different wines by the glass while the traditional wine service is generally around five. Clearly there's a difference but that means there's a disparity in necessary inventory as well.
In closing, Samie offered up some great parting advice for wine lovers…"There are three kinds of wine in this world. The ones you've tried and like, the ones you don't like and the ones you haven't tried yet". Sounds like good advice for those who enjoy a glass of wine every now and then.
To learn more about this subject and more, the radio show is available for download on iTunes or online at www.wesellrestaurants.com. Take a moment and LIKE the restaurant brokers on Facebook or follow the restaurants brokers on Twitter. We Sell Restaurants is your industry authority and source for information on all things restaurant related.