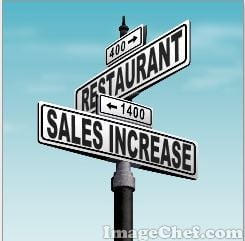 If you are wondering what restaurants are selling for these days, a recent report by BizBuySell along with some interpretation by the by the restaurant brokers may help.
A leading internet business for sale marketplace, BizBuySell compiles quarterly and annual data by segment from their closed transactions. While they don't capture every sale in the country, they do have a large database and are able to provide trending results over time.
Closed transactions by sector along with financial metrics and market level data are part of their quarterly report. This can provide feedback to restaurant buyers and sellers about restaurant for sale activity and pricing. For example, in their just released year end report for 2013, they reveal that transactions in total were up 49% over the prior year and this good news was driven by sales of retail businesses and restaurants. That's a good report for restaurant owners and restaurant brokers alike.
We can also glean some key metrics from the report including:
The Median sales price of a restaurant sold in 2013 was $128,750 while the Median asking price was $149,250.
The average sale to asking price ration was .89. That means that the restaurants on the market that sold in their report sold for more than 10% less than the advertised price.
The Median revenue of the restaurants sold during the year's worth of data was $401,739. That means most restaurant sold were well under the half million dollar mark in sales.
Sales price measured against the revenue resulted in an average multiple of .38. That means a restaurant with approximately $500,000 in sales (to use round numbers) would be selling for around $190,000 under these numbers.
As a multiple of cash flow the BizBuySell report shows that their sold data shows an average multiple of cash flow to be 1.98. Stated another way, earnings times 1.98 (or basically two time earnings) was a benchmark for sold restaurants in this report.
They also show median cash flow at $80,000 on the restaurants in the sample.
While these reports indicate some general rules of thumb, it does not mean the average restaurant owner can take their sales, multiple by .38 and reach a selling price. However, it may mean that if your restaurant does $500,000 in sales and you want to put it on the market for $250,000 that you will be pretty far off the mark. It also demonstrates the importance of driving both sales and cash flow up before placing it on the market in order to get the best sales price.
The asking price for any restaurant is determined as a function of its cash flow and is closely analyzed by a restaurant broker who should have a strong financial background. Restaurant brokers apply the same logic to the transaction that a banker uses to determine owner's benefit or seller's discretionary earnings. That means that all items that benefit the seller plus the owner benefits (car payments, health insurance or otherwise) are then added back to reach the total owner benefit. That is then applied to a multiple. In the BizBuySell scenario, that multiple is 1.98. That's not the same in every area of the country, for every type of business and may vary by season or when a franchise is involved (to name a few reasons).
Outside of restaurants, the BizBuySell data also captured a category they call, "Other Eating and Drinking Places." This should be studied for the differences to restaurants since this segment would likely include bars and clubs and depending on how the broker entered the listing, sports bars. This segment performed higher on almost every metric than restaurants except earnings. Median cash flow was lower than for restaurants but as a function of sales and earnings, pricing and selling prices were higher. In particular the average multiple of revenue at .38 for restaurants versus .46 for the bars is more than 20% higher. This is reflective of the market's continued appetite for bars and clubs.
| | | |
| --- | --- | --- |
| | Restaurants | Other Eating and Drinking Places |
| Median Sales Price | $ 128,750 | $ 130,000 |
| Median Asking Price | $ 149,250 | $ 149,500 |
| Average sale to Asking Price Ratio | 0.89 | 0.89 |
| Median Revenue | $ 401,739 | $ 308,000 |
| Average Multiple of Revenue | 0.38 | 0.46 |
| Median Cash Flow | $ 80,000 | $ 75,000 |
| Average Multiple of Cash Flow | 1.98 | 2.03 |
As a caution, the best source for a restaurant or bar valuation is going to be found when seeking the advice of an expert restaurant broker. BizBuySell data doesn't include every restaurant sold in the United States and would exclude any deals for sale by owner or ones that did not use their system. It is a large data point however as they include 1562 sold restaurants in their report along with just 278 for the year in the Other Eating and Drinking Places category. The closed transactions are compiled from unaudited data from the business broker in transaction.
How do the restaurant brokers numbers compare to these? Well, we are seeing higher multiples of cash flow in particular for franchise resales. We are seeing the strongest activity in years by buyers and sales prices that are up over last year this time. That's reflected in all of our major markets including Atlanta, Colorado and Southern and Central Florida.
LIKE this article? Please SHARE it on Facebook. Linked In or Twitter
Click this link to view the full BizBuySell Report online.