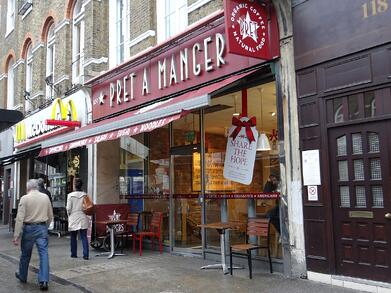 On our recent London trip, the restaurant brokers tried the local cuisine along with the local chains. We essentially ate our way through the London streets so we could bring as many experiences as possible back to our readers through our blog and radio show.
Pret a Manger is a great example of a local chain with an impressive story. Pret a Manger means Ready to Eat in French (at least according to French speaking restaurant broker Eric Gagnon!).
We found these great spots everywhere in London and they were always busy so we restaurant brokers had to give it a try and see what all the fuss was about. First, think FRESH! The sandwiches would be gone by midday in many of the busier stores since everything is made fresh and when it's gone, that's it. The salads we tried were super delicious and also limited to what's on the shelf when you get there.
The great point of this restaurant chain is that everything is healthy and they posted all the calorie counts and nutritional information on the packaging. That was quite difficult to find in a foreign country.
This restaurant brokers' personal favorite was the Market Fresh Salad. This boxed combination included Quinoa Mix (red Quinoa and edamame, peas and parsley) along with Garbanzo beans, Avocado, Beets, grape Tomatoes, Carrots Mesclun, Arugula, Onions and Lemon. Weighing in at only 250 calories, this was one of the healthiest low calorie lunches this restaurant broker was able to find in a city filled with fish and chips or bangers and mash on the menu!
Eric was able to grab a sandwich on the go and his choice was the Slim California Club. He was treated to roasted turkey breast that was touted as antibiotic free along with a cage-free egg, avocado, tomatoes, mayo, mesclun, pesto and seasoning on granary bread.
Don't count on getting the restaurant brokers choices if you're not visiting sometime soon as they menu at Pret a Mange is always changing. The managers told us that a "food team" meets every week to discuss food (including customer suggestions). They spend hours coming up with new creations and recipes and end up launching up to 20 new ideas each month. Now that's what we call an 'evolving' menu!.
The company website says the concept opened in London in 1986 after two college friends decided to offer sandwiches without chemicals, additives and preservative. They must not have realized they were on the leading edge of the "organic" food trend nearly three decades ago when they got started but they definitely have it figured out now.
Today, that private company has 335 stores worldwide with the majority in the United Kingdom. The company does over 445 million pounds a year in sales which is more than $730 million in sales if you were looking at those numbers in U.S. dollars.
Of course, the restaurant brokers were ready to bring this winning concept home to the states but no such luck. Pret a Manger is proud to say they do not franchise and only operate company stores. That's right! There's no franchising of this business model. They seem to be quite proud of the fact that they aren't duplicating the business in the hands of others since their website says, "We don't franchise. The fact is, we don't like to franchise, so we don't."
They will accept your ideas for a new location however. The restaurant brokers couldn't think of a new location in London for them since everywhere we turned we saw Pret a Manger was already in place.
If you're on the road in the U.K. and seeking something healthy, fresh and delicious, don't pass up Pret a Manger. The food is excellent.
Like this story? Please SHARE it on Facebook, Linked In or Twitter