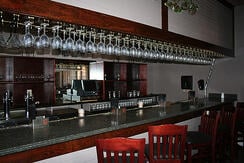 The restaurant brokers often have buyers approach us on vacant restaurant space. The price is listed at $0 so it seems like it's pretty cheap to get into business, right? But before you go down the path of renting a vacant restaurant space to save money, consider all the real costs involved.
Renting a vacant restaurant usually means there's some basic infrastructure in place. Often, the business will have the hood and grease trap or even walk-in refrigeration. After all, the last guy in business there couldn't really take those items with them when he left. That means you are left to put the rest of the equipment in place when renting a vacant restaurant. Let's consider the costs.
A typical equipment line will consist of a flat top, multi-burner stove, fryers, convection oven and then any other specialized equipment for your concept (a wok or pizza oven for example). That's for the "hot" side of things. In addition, you will need refrigeration and prep station space to put the food together and move it from preparation to cooking. In all, most kitchens will have a minimum of 8 – 10 feet of equipment under the hood and another 8 – 10 feet of equipment in the prep area. That's on top of the equipment you need in the dish bay or dishwashing station area, the sinks required by code or any other refrigeration you may need if there isn't a walk-in cooler or freezer.
You can buy this equipment second hand when you're renting a vacant restaurant space. In most major cities, there are multiple dealers if you simply Google, "Equipment Supply Companies."
Look at the pricing on the seller's websites and you'll find that the cost to put a minimal kitchen together even with secondhand equipment runs about $30,000 to $40,000 so the restaurant brokers recommend you use around $35,000 as a baseline in your calculations. On top of that you will need assorted mixing bowls, dough mixer, tongs, pans, pots, spatulas and cooking equipment in order to prepare food and move it from one place to another. That may cost another $500 to $3000 new or used.
The next items you will need are for the front of the house. First, you will need a POS or point of sale system to register sales transactions and also handle credit card payments. You also need booths, tables, chairs or counters for the customers. Lastly, you will need "small wares" or the silverware, salt and pepper shakers, etc. in order to serve the customers. You'll also need a couple of booster chairs and high chairs to accommodate children. Depending on what you find available second hand, you could potentially furnish the front of the house for $2,500 to $10,000 including the POS system.
As you begin adding all this up, you'll see that the restaurant brokers have already demonstrated that you need quite a few dollars to start up when renting a vacant restaurant space and that's before you pay an electrician, plumber and carpenter to install the equipment, permit it appropriately and get it inspected.
You're still not ready to go however because you also need to get deposits together for the power, gas and landlord when you're renting a vacant restaurant space. That can run around $3,000 for electric, $1,500 for gas and 2-3 months of rent with the landlord. All told, that can amount to another $7,000 TO $15,000 depending on the monthly rent.
Let's add this all up:
| | |
| --- | --- |
| Equipment (Back of House) | $35,000 |
| Small Wares (Back of House) | $500 - $3,000 |
| Front of House (Furnishings & Smal Wares) | $2,500 – $10,000 |
| Deposits | $7,000 - $15,000 |
| Total Outlay: | $45,000 to $63,000 |
So, despite a zero cost, you can see from this example, that in many cases the option of renting a vacant restaurant space to save money can cost more than simply buying the assets of a restaurant for sale. If you're considering renting a vacant restaurant space, go through listings for sale that are offered for under $30,000 first. You may be pleasantly surprised to learn it's a cheaper option to simply buy someone else out and be ready to go.
Want to see some restaurants for sale? Visit this link.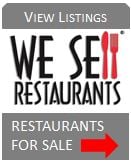 LIKE this article? Please SHARE it on Facebook, Linked In or Twitter.