Independent Survey Shows Franchise Owners Are Highly Satisfied with We Sell Restaurants' Performance
Palm Coast, Fla. – We Sell Restaurants was recently named a Top Franchise for 2023 by Franchise Business Review. This is the 18th annual ranking of the 200 best franchise opportunities as rated by franchise business owners. The list is available at https://franchisebusinessreview.com/page/top-franchises/. In addition to the overall ranking, We Sell Restaurants also ranked among the top five business services franchises, and the top five franchises under 80 units.
We Sell Restaurants® is the nation's only business brokerage franchise specializing in restaurants. We Sell Restaurants has carved an unparalleled niche in the industry as the nation's leading and only business broker franchise focused on restaurants. Today, We Sell Restaurant is a vibrant and innovative company that operates in 45 states nationwide and delivers on the founder's vision to Sell More Restaurant Than Anyone Else. PERIOD.
Franchise Busisess Review, a market research firm that performs independent surveys of franchisee satisfaction and employee engagement, provides the only rankings and awards for franchise companies based solely on actual franchisee satisfaction and performance. Franchise Business Review publishes its rankings of the top 200 franchises in its annual Guide to Today's Top Franchises.
We Sell Restaurants was among over 360 franchise brands, representing nearly 38,000 franchise owners, that participated in Franchise Business Review's research. We Sell Restaurants' franchisees were surveyed on 33 benchmark questions about their experience and satisfaction regarding critical areas of their franchise systems, including training & support, operations, franchisor/franchisee relations, and financial opportunity.
We Sell Restaurants survey data showed the following: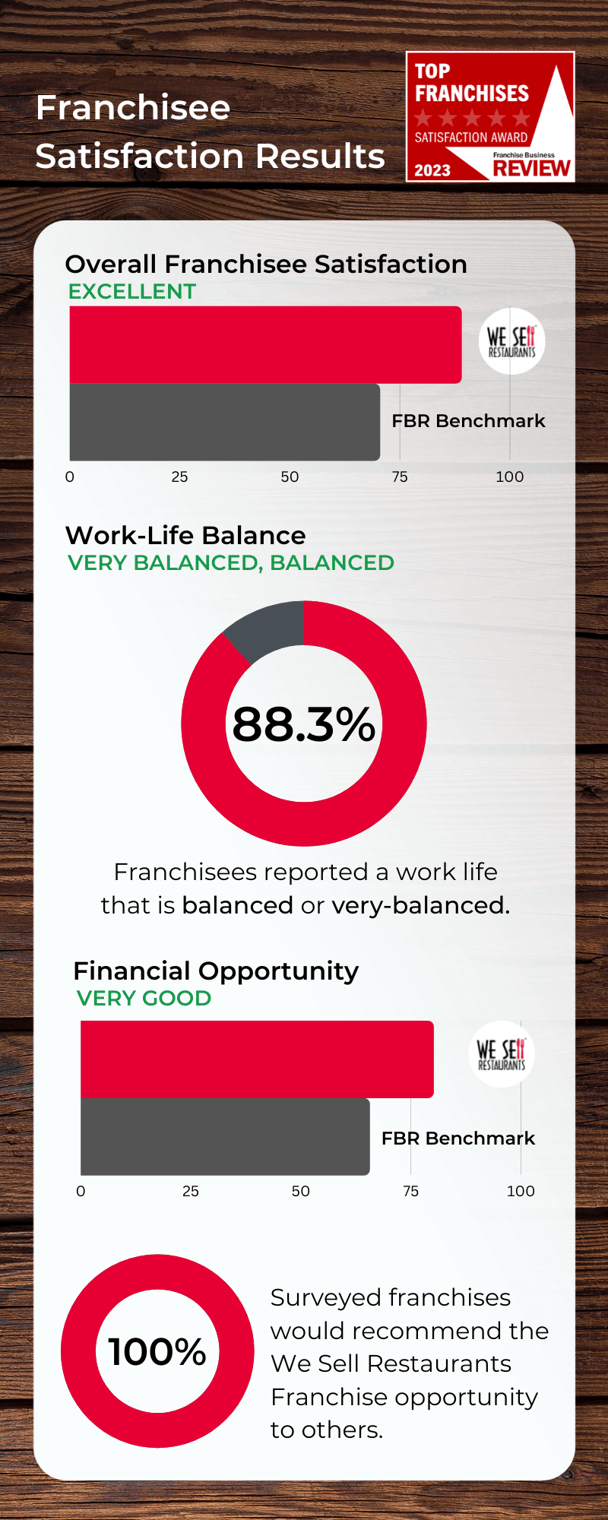 Overall, We Sell Restaurants received the prestigious Franchisee Satisfaction Award and placed among the top 25 franchise brands. The brand was among the top five business services franchises, and among the top five franchises under 80 units.
"Franchisee satisfaction levels hit an all-time high last year despite the pandemic, and we are pleased to report that our 2023 research shows satisfaction has remained sky high—a sure indicator that franchisee satisfaction is a top priority for franchise companies—and that's good news for franchise owners and anyone thinking about investing in a franchise," said Michelle Rowan, president & COO of Franchise Business Review. "As an independent research firm, Franchise Business Review is committed to helping prospective franchisees get an objective view of the best franchise opportunities available based on actual feedback from the people who own them. This year, nearly 38,000 franchisees completed our survey and from there we identified the franchise brands with the highest levels of satisfaction and performance to educate potential buyers about which franchise to invest in. Each of the 200 Franchisee Satisfaction Award winners on this year's list achieved stellar ratings from their franchisees."

"It is always exciting to see our franchisees validate the effort of the brand to support their business and provide unmatched opportunities for them to create generational wealth," said Robin Gagnon, CEO. "One of our core values is to create a customer service experience worth sharing. The fact that 100% of our franchisees would recommend the We Sell Restaurants franchise to others is an amazing statistic. We are thrilled with the results and will work hard to live up to these numbers now and into the future."

Visit FranchiseBusinessReview.com to see the full description of the 2023 Top Franchises.
ABOUT WE SELL RESTAURANTS
We Sell Restaurants is the nation's only business brokerage franchise specializing in restaurants for sale with 20 years of experience in helping buy, sell and lease hospitality locations. We Sell Restaurants and its franchisees have sold thousands of restaurants across the country and maintain a listing inventory of more than $220 million online at their powerhouse restaurant for sale marketplace, including independent and restaurant franchises for sale. We Sell Restaurants is offering franchise opportunities for their brand in select market areas.
For more information, visit www.wesellrestaurants.com/franchise