Gagnon will help lead the oldest and largest global franchise association, bringing a range of experience in franchising and contributions to the business model.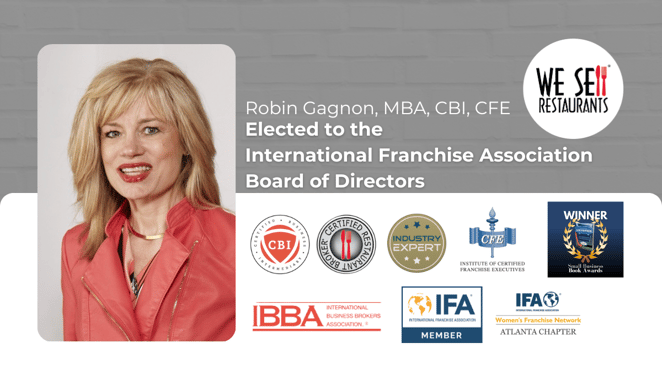 We Sell Restaurants, the nation's leading and only business broker franchise focused on restaurants, announced today the election of Robin Gagnon, Co-Founder and CEO to serve on The International Franchise Association's Board of Directors. Gagnon, who joins along with seven other new directors, will take her position at the 2024 IFA Annual Convention in February, joining one of the most diverse IFA Boards in history, bringing a variety of experience and expertise to lead the franchise sector's oldest and largest global trade association.
"We are excited to welcome Robin to serve on the IFA Board of Directors, bringing her significant experience in franchising at one of the most consequential times for the business model," said Matt Haller, IFA President and CEO. "The IFA Board is integral in guiding the organization in our mission to protect, enhance, and promote franchising – and the new directors will play a critical role in moving the organization and the entire franchising sector forward. Each new director brings unique contributions and perspectives, and we look forward to the leadership they will provide to the Association in the years ahead."
Under Robin's leadership, We Sell Restaurants has grown to 45 states where it dominates the restaurant for sale marketplace and franchise resales, delivering on the founder's vision to "Sell More Restaurants Than Anyone Else." Robin has appeared on The TODAY Show as a restaurant expert and was recognized by Nation's Restaurant News as one of the most influential suppliers and vendors in the country. Her articles appear in QSR Magazine, Forbes and other industry publications, and she is a regular media resource for all matters related to the restaurant industry. In fact she was ranked one of the top 50 most influential people in franchising in 2022 while Entrepreneur Magazine Named her to the list of "Most Influential Women in Franchising."
Robin is also the Chair of the Women's Franchise Committee of IFA and an MBA and Certified Franchise Executive (CFE) in addition to her CBI (Certified Business Intermediary) designation from the International Business Brokers Association. Additionally, she co-authored Appetite for Acquisition, a small business book award winner in 2012 and contributes frequently to industry press appearing in Forbes, QSR, Modern Restaurant Management, Franchise Update, and others. Entrepreneur has named her to their list of the "Top Influential Women in Franchising."
"It is an honor to be continuously recognized by the IFA, and I am thrilled to soon be working alongside several other industry-leading peers," said Robin Gagnon, co-founder of We Sell Restaurants. "I am truly proud to play a key role in the world's largest membership organization for franchisors and look forward to what 2024 has in store for the franchising industry."
The 2024 IFA Board of Directors is comprised of franchisee, franchisor, and supplier members, with a diverse representation of industry, thought, and background, who provide critical guidance to the IFA on the association's key initiatives.
The new directors will assume their positions in February 2024 and will serve an initial term of three years.
About We Sell Restaurants
We Sell Restaurants is the nation's largest business broker franchise focused exclusively on the sale of restaurants, with 20 years of experience in helping buy, sell and lease hospitality locations. We Sell Restaurants and its franchisees have sold thousands of restaurants across the country and maintain a listing inventory of more than $220 million online at their powerhouse restaurant for sale marketplace, including independent and restaurant franchises for sale. We Sell Restaurants is offering franchise opportunities for their brand in select market areas. For more information, visit www.wesellrestaurants.com.
About The International Franchise Association:
Celebrating over 60 years of excellence, education, and advocacy, the International Franchise Association (IFA) is the world's oldest and largest organization representing franchising worldwide. IFA works through its government relations and public policy, media relations, and educational programs to protect, enhance and promote franchising and the approximately 775,000 franchise establishments that support nearly 8.2 million direct jobs, $787.7 billion of economic output for the U.S. economy, and almost 3 percent of the Gross Domestic Product (GDP). IFA members include franchise companies in over 300 different business format categories, individual franchisees, and companies that support the industry in marketing, law, technology, and business development.