The old saying goes something to the effect, "If you love what you do for a living, then it isn't really work," certainly applies to many of the restaurant sales I've been fortunate to be a part of over the last seven-plus years. I am compelled to share one experience Selling a Restaurant because of the interesting history of the restaurant combined with the compelling bio of the Seller and the experience and reason for acquiring this restaurant by the Buyer. This was one of my favorite transactions as a restaurant broker.
Twiggs Gastro Pub in St Albans, Vermont has a colorful past. It actually started out as a Clothier in the late 1800's selling what was known then as haberdashery. In the early 1900's when Prohibition started, Twiggs became a Speakeasy. Even today, the separate entrance to Twiggs Clothier appears like you are walking into the entrance of a clothing store, however, after you pull down on the secret candleholder, a hidden door opens into a full bar decorated with period memorabilia dating back to the 1800's. It maintains its mystique by being named "The Clothier." Next door is the full restaurant called "Twiggs Gastropub." The atmosphere is comforting and unpretentious providing high quality, freshly prepared food at reasonable prices, maintaining purveyors of local or organic produce, sustainable seafood, and humanely raised meat and poultry as often as possible. There's another full bar with local draft beers.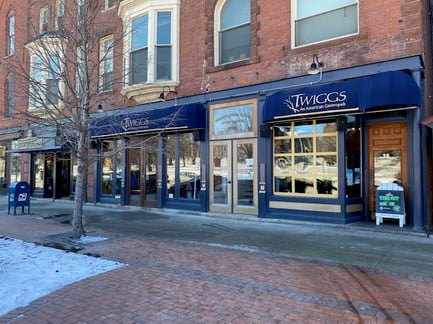 Outside front of Twiggs Gastropub
The creator of Twiggs has an equally impressive and colorful background. After graduating College, Tom Murphy spent the next 16 years advancing through the railroad industry, eventually becoming a Corporate Director for the world's largest regional railroad company. Tom is also a former professional mixed martial artist with a record of 8-0, competing in both amateur and professional fights, including on the popular UFC Ultimate Fighter Season 2. Tom now travels the nation with his good friend and wounded warrior Rick Yarosh. The two have spoken to over 2-million students on the power of HOPE and Action, focusing on empathy activation and student empowerment through their nonprofit organization "SWEETHEARTS & HEROES" focusing on the hateful act of Bullying. After taking over Twiggs and turning it into a successful Gastropub and Restaurant, Tom realized he needed to devote more time to his true calling…helping kids, so in 2022 he enlisted the help of Steve Weinbaum of We Sell Restaurants to pass on the legacy of Twiggs.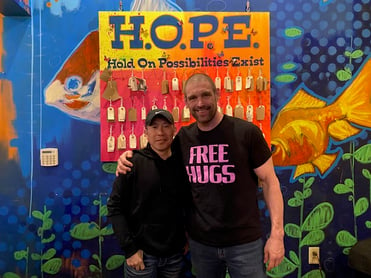 Tom Chan (Left) and Tom Murphy (Right), buyer and seller of Twiggs Gastropub.
After many months of trying to procure the appropriate Buyer, Tom Chan of Cypress Texas entered the picture. Tom was an experienced restauranteur who had owned and operated several successful restaurants previously. A family matter required Mr. Chan to relocate to the Northeast and after checking-out several opportunities, he decided Twiggs was the right fit for him.
It was a pleasure to be the restaurant broker on this deal, especially to meet and know both the buyer and seller. Their accommodating personalities combined with experience and professionalism made for a smooth ownership transition. I was fortunate enough to travel to St. Albans to meet both Toms, attend the closing, enjoy the charm of being in a Northern Vermont town in December, and most importantly meet these two terrific individuals. I even attended the Tom Murphy's Christmas party the evening prior to closing, which was bittersweet due to the pending ownership transfer.
If you are ever in the Burlington Vermont vicinity, take the time to visit St. Albans and Twiggs. Also check out Sweethearts & Heroes and all the good work they are doing for today's youth.
Restaurant owners and restauranteurs deserve a restaurant broker who invests their time, knowledge, and passion into helping the deal transfer. If you are thinking about selling, Find a Certified Restaurant Broker Near You to get started.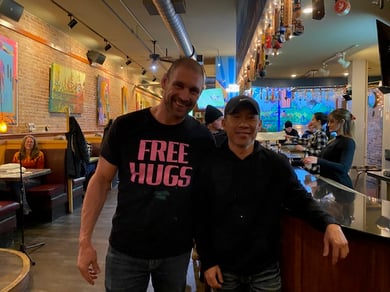 Tom Chan (right) and Tom Murphy (left) at Twiggs.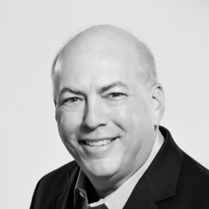 Steve Weinbaum, Certified Restaurant Broker is a licensed real estate salesperson in multiple states and Certified Restaurant Broker. He has over 30 years of experience in business analysis, marketing, sales, relationship management and contract negotiations. The importance of establishing open and honest rapport with all his clients is paramount. His years of experience negotiating complex business to business contracts translates to high closing rates. Steve has experience with Casual Dining and Quick Serve Franchise brands, growing both sales and customer engagement.