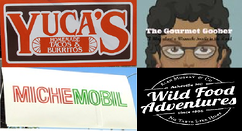 November 1, 2014 – This week, restaurant brokers Eric and Robin Gagnon are talking about reinventing the restaurant with Jennifer Jackson Outlaw food blogger from The Gourmet Goober, Alan Muskat founder of No Taste Like Home, Dora Herrera from Yuca's Restaurant and Fernando Lopez owner of the MicheMobile, on their weekly Restaurant Radio show.
What are today's restaurants doing to attract diners in ways that both serve and delight? We're finding out creative ways restaurants get new customers in the doors while still appealing to their existing ones. We asked what they were doing to get new customers in the door. Fernando Lopez said "I created a food truck experience with a 69 Volkswagen bus." How are restaurants appealing to children? Dora Herrera said "I see kids as customer just waiting to grow up."
These guests discuss the creative ways to reinvent dining for their restaurants and how to execute them effectively. Alan Muskat explains his creative foraging experience with his diners and the rest of the guests weigh in with their own events and how creating your own special day could assist with getting new people in the door. Jennifer Jackson-Outlaw discussed how she helped create mommy crawls to appeal to mothers and their children.
Listen in as our guest's give us insight on how you can reinvent a restaurant. Listen to the entire restaurant radio show live on Atlanta radio station WGKA, TALK 920 on Saturday at noon or the rebroadcast Sunday at 1 PM on Biz 1190.
This Week's Guests:
Jennifer Jackson-Outlaw, Food Blogger: The Gourmet Goober
Jennifer Jackson-Outlaw is a freelance writer, food blogger and Dishcrawl Brand Ambassador. Her work has appeared in such diverse publications as East Coast Home + Design Magazine and The Urban Coin. She has also worked with brands such as One Medical Group and Chef Wendy Brodie. When not working with other clients, she regularly blogs at The Gourmet Goober as well as hosts foodie events for Dishcrawl.
Alan Muskat, No Taste Like Home
a philosoforager, stand-up mycomedian, and epicure of the obscure, has been taking people "out to eat" for twenty years. He founded the first "forage-to-table" offering in the U.S. and the first public education program for wild foods in the world. Author of Wild Mushrooms: A Taste of Enchantment, Muskat has popped up on The Travel Channel's Bizarre Foods, The History Channel, PBS, CBS, and in Southern Living, Fodors, Travel+Leisure, Conde Naste Traveler, The New Yorker, The Washington Post, The Chicago Tribune, Country Living, Forbes.com, andInc.com. He's even preached on Voice of America. He sold hundreds of pounds of wild foods a year to over fifty restaurants and hotels, including The Biltmore Estate, Lantern, and The Grove Park Inn. On the thirteen anniversary of 9/11, he spoke at The United States Botanical Garden (next to the Capitol) on home/land security. The creator of GMO OMG is filming his next documentary about his work. Muskat has taught self-catering to The James Beard Celebrity Chef Tour; The 2014 James Beard Best Chef of the Southeast; Dr. Andrew Weil (twice on the cover of Time); Christie Hefner, former CEO of Playboy; VPs of Shell, Amoco, Aon, Motorola, Cracker Barrel, and The American Heart Association; the head of The American Bar Association; the owner of The Biltmore Estate; Jackie Siegel, the "Queen of Versailles," and a number of other notables and executives. He has served thousands and hasn't lost a customer yet.
Dora Herrera, Yuca's Restaurant
Yuca's, Los Angeles' iconic family-owned and operated Mexican eatery, is the first taco stand to be honored with the much coveted James Beard Award (in the America's Classics category). Launched on April 1,1976 Yuca's has received accolades from local, national and international reviewers. The best accolades, however, come from the Chefs who choose to eat at Yuca's on their dime. Now that I've taken the baton from my Mom, the creator of Yuca's, my goal is to never be finished building our business. And to continually create a business that brings you pleasure and a feeling of coming home.
Fernando Lopez, MicheMobile
These days you can get just about anything on wheels. Tacos, ice cream, cupcakes, even grilled cheese. We thought we had seen it all, until now. Now there is a mobile version of our favorite beverages — the Michelada! Coming from Southern California, the MicheMobile VW Bus is about to take off, literally. The van was started by Fernando Lopez, who (along with his fam) runs one of Los Angeles' best mole restaurants, Guelaguetza. The MicheMobile offers three types of micheladas on tap and sells its signature mix for you to take home and make your own. Genius. The Michemobil is the ultimate party on wheels. It rolls up to your party, and the first thing you notice is the 50" tv tucked inside out pop open roof between the two 800 watt speakers. Inside are the turn tables. But the most important thing is the 4 working beer taps on the outside that pump out the best micheladas in the US.
It's the brain child of the guelaguetza family, and it serves the same michelada recipe they have been making at Guelaguetza for years. Michelada Guelaguetza is a beer cocktail mix created by the Lopez family, founders of the Guelaguetza Restaurant in Los Angeles. The family has served this secret recipe for over a decade at their restaurant and finally decided launched their bottled Michelada product in 2013.
Michelada Guelaguetza is a ready to pour mix that transforms your favorite beer instantly into a Michelada. Sold in our on-line retail store, the Michelada Guelaguetza is available in a single serving 4oz bottle as well as in a 1L family pack presentation. It is perfect to take with you to a carne asada, or any sporting event. Open, Pour and JUST ADD BEER