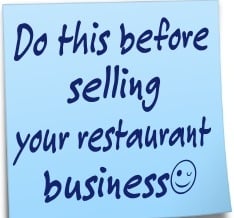 The time has come to sell your restaurant business, perhaps it's not making the money you need anymore, or you just don't have the time to run it any longer. Just like when selling any other item, there a few basic things to consider to make sure your business is an attractive option for potential buyers. It may be necessary to invest some extra capital to ensure a better sale price in the long run.

The first step in
selling a restaurant
is to make sure that the business is ready to sell. If it is an active, operating restaurant then it is important to make certain that any and all maintenance is attended to. This includes repairing or replacing all of the equipment and addressing any aesthetic issues. Potential buyers that notice an array of problem areas when they view the space will be left wondering what else is wrong with the business that they cannot clearly see.
When the restaurant is looking its best, it is then important to check out all the paperwork technicalities that may cause problems down the line. Leases for both the property or any equipment that will be part of the sale need to be checked to make sure they are transferable to a new owner. Then you should contact an expert restaurant broker who can pull together research on the area in which the restaurant is located, as well as information on sales figures, costs and other restaurant statistics. He or she will form a business offering package to attract buyers along with a restaurant valuation report, which helps tell both you and the buyer how much the business is worth.
With these steps out of the way, the process of selling can begin. Restaurant brokers rely on their database of buyers and website advertising as the best starting point for selling a restaurant business. They will have a well organized process of reviewing potential buyers so that their ability to buy is checked before time is wasted or offers are tendered. Expert restaurant brokers have all the tools to successfully move the transaction from contract to the closing table.