Thinking about buying a Chicken Wings restaurant? Check this out – the Chicken Council says Americans will consume enough drumettes and flats to circle the Earth nearly three times during Super Bowl weekend.
You're watching the games, knocking back (or sipping) your favorite beverage and the food of choice is...chicken wings! The National Chicken Council annual report says Americans will consume an incredible 1.33 billion wings on the big day! They should know. The National Chicken Council is the non-profit, trade association that represents U.S. chicken producer-processors. Their members account for more than 95 percent of the chicken sold in the United States.
Forget the Atlanta Falcons and New England Patriots – this is cause for celebration if you're in the industry where preparing the perfect chicken wing has become a national obsession. They also report there is growth in that number – 2017 is projected to increase 2 percentage points or 30 million wings over last year! That is a 6.5% increase or 80 million more wings than 2015. That tells the restaurant brokers that this is definitely at the top of the list for America's favorite Super Bowl snack.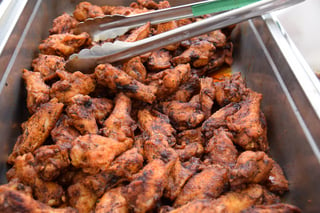 Wants some chicken wing trivia to share with friends and family on Super Bowl Day? While everyone's enjoying the Super Bowl menu – complete with wings of course, you can share these handy facts.
If the chicken wings eaten on Super Bowl day were laid out end to end between the Georgia Dome in Atlanta and the Gillette Stadium, the 1.3 billion wings would go back and forth 80 times.
1.33 billion wings is enough to circle the Earth almost three times.
The combined weight of all players on the 32 NFL teams doesn't come close to the weight of the wings eaten that weekend. They weigh in at 166.25 million pounds or 338 times more than all those football players.
If the average NFL player started eating two wings per minute, it would take him approximately 1,265 years, 80 days, 7 hours and 12 minutes to eat 1.33 billion chicken wings.
We market a number of chicken wing restaurants for sale across the nation which made us start checking our records to see where they have been most popular. Our sales have been stronger in the South than the North and it looks like national research shows consumption in both areas is higher than average. By contrast, we don't have as much inventory or sales in the Midwest.
What does a national survey say about the popularity of wings in the two competing Super Bowl regions? Looks like both the Falcons and Patriots fans are big aficionada of the favored savory Super Bowl Food. Research released by NPD group estimates that the Northeast, home to Patriots fans, eat 12% more wings on average than the national average and the South – Falcons territory edges them out at 13% ahead. As a restaurant brokerage firm based in the South, we're hoping the final score of the Super Bowl maintains that Falcons edge!
Lastly, who's eating all those wings? It seems the NPD Group has an answer here as well. They say millennials chow down the most. Their research shows wing eaters aged 18 to 24 consume around 61 percent more wings than other age groups. The National Chicken Council has more good news for those interested in buying a chicken wings restaurant. Most (75 percent) of the food consumed comes from restaurants. For all these reasons, growth, sourcing from restaurants, a young demographic appeal, a strong tradition and of course, 1.3 billion chicken wings in a weekend, it seems like buying a chicken wings restaurant could be a good bet.
No matter what camp you're in – Falcons or Patriots, a spokesperson from the National Chicken Council got it right s saying, "…this year's Super Bowl should be great for both football and chicken wing fans." All these great statistics on one of America's favorite Super Bowl go-to snacks means those in the market to buy a wings restaurant might be onto something!
Enjoy the game (and the wings!). For a quick look at our chicken wings restaurants for sale, visit our listings online at this link.
==============================
For more information on wings, including their history, relationship with football and creative wing recipes, visit the National Chicken Council website.
High resolution photos of chicken wings are available to download here and here.
The National Chicken Council is the non-profit, trade association headquartered in Washington, D.C. that represents U.S. chicken producer-processors, the companies that produce and process chickens raised for meat. Member companies of the council account for more than 95 percent of the chicken sold in the United States.