We Sell Restaurants weighs in on the Best Place in America to buy a restaurant. You might be surprised by the answer!
A recent article suggests that those in the market to open a restaurant look at what they term as "second-tier" or "third-tier" cities. We Sell Restaurants has been advocating a similar approach for those in the market to buy a restaurant for several years.
What's a "second-tier" city? Think about cities that don't host an NFL team like New York, Chicago or Los Angeles. Instead consider towns like Ann Arbor Michigan which ranked second on the list. Other cities that hit the top ten in this recent publication included Arlington Virginia (but not D.C.) and Scottsdale Arizona. What's the benefit for owners to buy a restaurant in Ann Arbor or Arlington versus Detroit or D.C?
One key difference between so-called "second tier" cities and the most populous markets in America is rent. A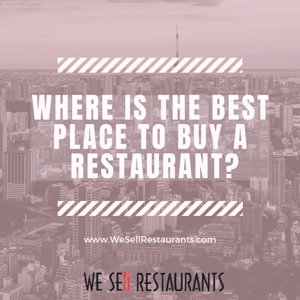 key component to success in the industry is strong control over occupancy costs. The top cities in the nation have what some would term exorbitant rent levels, making it virtually impossible for a restaurant to operate at a profit.
As Restaurant Brokers, we counsel our clients to manage total occupancy which includes their base rent, plus cost of common area maintenance, taxes and insurance at a maximum of ten percent. While that's an ideal level, we find most major cities make that an impossibility.
Consider an example in Atlanta Georgia where we see rates for base rent hitting the $35 to $40 per square foot mark for a basic shopping center space (no end-cap, small patio). Taxes, common area charges, insurance and other costs push that total occupancy rate up to $50 per square foot.
At a level of fifty dollars per square foot, a simple fast casual concept in a 1500 square foot location would need to generate sales volume of $700,000 per year to hit the ten percent occupancy mark on a rent bill for the year of $70,000 or $5833 per month.
Is that attainable? For most restaurateurs, it is not. An operator must be at the top of their game to push that type of volume and pay the rent level requested in major markets.
Another reason to focus your search to buy a restaurant in less populated markets is the ability to stand out in the mix. For major league cities there is heavy duty competition. Virtually every concept you can think of has been developed multiple times. You won't be one of five fast casual sandwich shops, you will be one of fifty. For the middle market landscape, you can carve a niche and get returning customers, a much less expensive prospect than constantly having to attract new ones among steep competition.
Buy a restaurant in a second or third tier like Plano Texas versus nearby Dallas. You're reap the benefits from limited competition and loyal customers. This especially comes into play with catering or delivery service, a large component of the sandwich shop business. The Uber Eats, DoorDash, GrubHubs of the world will offer unlimited choices in a large city. For the smaller market, you'll be one of a few instead of lost in the mix.
A final reason to focus on the second and third tier locations when you buy a restaurant is the cost of living. Not only will you reduce your own operating costs for basic needs like insurance and labor, but your customers also benefit. The cost of living will almost always, be lower than in the "major league" cities. With less money paid out for taxes, mortgage payments, insurance and all the other expenses associated with these markets, your customers have more disposable income to spend. Where do they like to spend those funds? Dining out is top of mind along with entertainment for free cash flow. That's good news if you are buying a restaurant in a city like Birmingham Alabama or Bellevue, Washington (number eight on the list).
That also means your own money will go further. You may be living in a rat race environment now where you need high six figures to support your lifestyle. Move to a smaller market and $85,000 may "spend" like $120,000 if your overall cost of living is reduced.
Your family also benefits in ways that can't be measured in dollars and cents when you buy a restaurant outside a major market. Smaller communities often mean a better overall quality of life. You may not be able to afford a home on the water in New York, but you can get all the views you want in Pensacola Florida. Your family will get access to great school systems, a family friendly environment and a sense of community that will spill over from your status as the local restaurant owner.
The original survey of where to open a restaurant was based on research and analysis from the online equipment seller Bid-on-Equipment. They keyed into four attributes when ranking the best place to open a restaurant: Per capita spending on restaurants; the number of restaurants per capita; the number of restaurant workers available per capita; and the median income of residents.
"Cities with growing restaurant scenes, like Austin, Nashville, and Denver, show why aspiring restaurant owners might not want to rule out second- and third-tier cities," Bid-on-Equipment noted in presenting the data.
We agree. Our feedback on where to buy a restaurant looks at cost to operate, cost of living and quality of life. By whatever measure you choose; don't discount smaller markets too quickly. They may be just what you're looking for when you consider the overall picture and your desire to buy a restaurant.