Are you wondering about the process for selling a restaurant? The steps are actually very straightforward. Here's a guide from Certified Restaurant Broker Ken Eisenband on selling your restaurant - step by step. It's a blueprint from start to finish. Let us know what you think.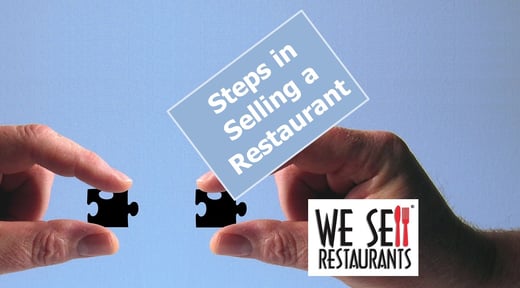 Step 1 - Preparing the Listing
Seller agrees that We Sell Restaurants has the exclusive right to sell the business at the agreed upon listing price and financing terms contained in the listing agreement. This includes any other terms the seller agrees to.
Seller furnishes We Sell Restaurants all the necessary financial documents and data required like tax returns, lease, payroll records, etc.
We Sell Restaurants values the business by analyzing the data and in some cases, touring the facility. A comparison to previously sold restaurants and current listings will be used to make sure we get the right listing price. That's critical in making sure we sell your restaurant for the most money in the shortest period of time.
Step 2 - Marketing the Listing
We Sell Restaurants will write the listing copy and search engine optimize your listing to get the greatest possible response. The listing is then email blasted to the most current database of buyers. That buyer count now exceeds 65,000 and is growing daily.
Step 3- Maintaining Confidentiality and Working with Buyers
We Sell Restaurants will require buyers to sign a confidentiality agreements and pre-qualify prior to releasing the name and address of the business.
The Buyer will visit the location as a secret shopper.
We Sell Restaurants will set up a meeting with theSeller, Buyer and Broker to tour the faility and answre any questions.
Step 4- Purchase Agreement
We Sell Restaurants will prepare an Asset Purchase Agreement and collect the good faith deposit in escrow.
Your restaurant broker will provide buyers with third party lending resources.
Offers will be presented by We Sell Restaurants to sellers.
Step 4- Due Diligence
We Sell Restaurants will set up any meetings to tour the facilities and answer any questions.
Your restaurant broker will work to coordinate inspections or any other due diligence items.
Step 5 – The Closing
For the final step, the We Sell Restaurants Certified Restaurant Broker will work with the closing agent to insure all material necessary will be provided to ensure a smooth closing for both the buyer and the seller.
All the steps taken during the process of buying and selling a restaurant run smoothly with the help of a Certified Restaurant Broker. Are you ready to meet a broker in your area? Contact us today!