The Colorado office of We Sell Restaurants announces the sale of Rio Bistro Wine Bistro and Restaurant in Pueblo Colorado. Certified Restaurant Broker, Bob Steinberger was the Listing and Selling Agent on the transaction.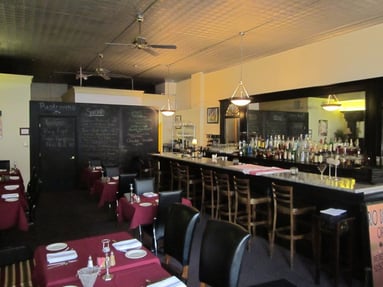 Rio Bistro, located at 126 South Union Avenue in Pueblo Colorado is located just steps from the city's new beautiful and vibrant downtown Riverwalk. This quaint, special fine dining Bistro and Restaurant has been operating profitably since 1999. The Sellers are retiring after being a staple in Pueblo's restaurant scene for more than a decade.

The Purchaser is Bonagent, LLC, led by Massimiliano Innocenti. He spent several months reviewing the market and the opportunities in Pueblo before deciding to buy Rio Bistro. He, like many customers, was a fan of the full bar that runs the length of the dining room with comfortable seating at formal linen topped tables. One nice feature of the Rio Bistro is the exposure to local artists. Their decor features consignment paintings from local Pueblo artists.
The seller, Elizabeth Millenet had operated the business since 1999 and retired after many successful years. Her original menu featuring upscale appetizers, cocktails, fine steaks and seafood, seasonal favorites and desserts will continue to be offered Tuesday through Saturday from 5 – 8:30. She will remain to train the new owner and ensure a strong transition for loyal customer.
John Jordan, Franchise Partner for the Colorado We Sell Restaurant office said, "We are excited to see another new owner take over a great operation in the Denver marketplace."
We Sell Restaurants specializes in helping other buy and sell restaurants. Their goal is to sell more restaurants than anyone else – period! We Sell Restaurants can be found online at wesellrestaurants.com. The company is franchising nationwide and has offices in Florida, Georgia, Colorado, Tennessee and Texas. Visit our restaurant for sale at this link.