Ken Eisenband, Franchise Partner in Ft. Lauderdale Sells Mack's Café and Strathmore Bagels and Deli.
We Sell Restaurants, the franchise restaurant brokerage concept selling more restaurants than anyone else nationwide, announces the latest transactions in Broward County, Florida. Mack's Café, a casual concept in business for more than a decade, recently changed hands along with Strathmore Bagels and Deli. Ken Eisenband, Certified Restaurant Broker and Franchise Partner for We Sell Restaurants in Ft. Lauderdale represented the seller in both transactions.
Mack's Café went into contract and sold to the new owner, Chris Frank, a Pompano resident. He is excited to take over a thriving establishment and will be making changes to the concept along with re-branding the store as Topher's Table. Chris plans to update the local flavor, recipes and customer service at this location along with the new branding. Restaurant Broker Ken Eisenband said of the sale, "It is always exciting to see someone take over a concept and prepare to put their own spin on the restaurant. This was a great fit for both parties in a market where we are seeing strong restaurants sales."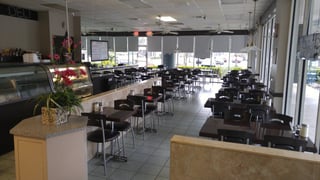 In a second restaurant sales transaction, Ken Eisenband and Ken Allain of We Sell Restaurants cooperated on the sale of Strathmore Bagels and Deli in Sunrise Florida. The 2,700 square foot breakfast and lunch location is now under the ownership of Perla Acebey and Acebey, Inc. This 20-year old business is well established and the buyer and seller plan to closely coordinate on training and transition in order to retain the flavor and ambience of the business. The seller, Tony Tutino, is retiring after several successful decades in business.
Eric Gagnon, President of We Sell Restaurants said, "We are very excited to see the continued strong activity in South Florida and the Fort Lauderdale market in particular. National tracking shows that business sales were only slightly ahead of last year at the national level while we are seeing restaurant sales significantly outperform last year in terms of transaction counts and days on market. The Ft. Lauderdale office is a strong performer in the restaurant for sale marketplace."
We Sell Restaurants, a franchise concept focused on helping the food service industry buy and sell restaurants through a unique branded and systemic approach, is now operating in 32 states including those served by the corporate headquarters and franchisees
About We Sell Restaurants: You can find We Sell Restaurants online at wesellrestaurants.com, Facebook, YouTube and Twitter. To learn more about franchising with We Sell Restaurants, visit www.wsrfranchise.com or call 888 814 8226. We Sell Restaurants is the nation's largest restaurant brokerage firm assisting those in the market to buy and sell restaurants.