We Sell Restaurants Expands to Minnesota
We Sell Restaurants, the restaurant brokerage franchise selling more restaurants than anyone else nationwide, annou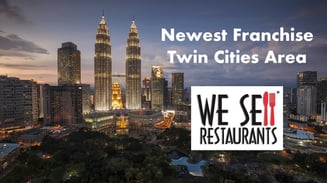 nces their newest franchisee in the Twin Cities Market. Scott Ruby, a licensed real estate agent in Minnesota, has purchased the rights to represent We Sell Restaurants in the area. The Minnesota location is scheduled to open in April 2017.
This new location marks the 10th franchise unit for the restaurant brokerage brand which began offering franchise units in 2012. Scott Ruby, the latest franchisee is a graduate of University of South Dakota. Scott is married to Molly Ruby who is also a licensed real estate agent, and they are the proud parents of three thriving children.
Eric Gagnon, President of We Sell Restaurants, say of the expansion, "We have had tremendous demand from the Twin Cities market for a local franchisee. We have listed and sold several million dollars in restaurants over the past few years in this market. Expanding with a local office allows us to provide a superior customer experience for those buying and selling restaurants."
Scott has extensive expertise in both sales, operations and business management. He will open his new We Sell Restaurants office with the mission to provide exceptional, unparalleled service to our clients.
Robin Gagnon, co-founder of the brand says, "Scott is the ideal candidate for our restaurant brokerage brand. He is focused on reaching his goals, through efficiency, focus on the market as well as client demand, and through application of his fantastic interpersonal skills. He has a dedication for providing uncompromised customer service which makes every transaction he manages seamless and stress free."
Scott will undergo one of the most thorough training programs in the nation for business brokerage before embarking on his new role. He will undergo testing before being awarded the title of Certified Restaurant Broker, a distinction held by only a few individuals nationwide.
Restaurant buyers and sellers in the Minneapolis / St Paul market can expect to hear from Scott starting in April 2017 as the marketing kicks off in the area. Scott looks forward to working with the local restaurateurs, franchisees and potential buyers as they buy and sell restaurants