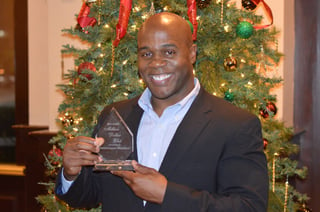 Each year the Georgia Association of Business Brokers (GABB) highlights members who have sold at least $1 million in listings during the year. This year, Dominique Maddox joined We Sell Restaurants President, Eric Gagnon, in this prestigious group.
Only eighteen members of the Georgia Association of Business Brokers (GABB) were named to the 2017 Million Dollar Clubs for helping to broker the sale of small-, medium-sized and large businesses worth more than $90 million in 2017.
GABB is a professional membership organization committed to professionalism in the business brokerage industry. GABB members relentlessly pursue professional development so they can render superior, ethical services for all customers and clients.
Dominique Maddox made his first appearance in the Million Dollar Club while Eric Gagnon made a repeat appearance in the multi-million dollar club.
Dominique graduated from Morehouse College in 2004 with a BA in Business Management. He went into the residential real estate field and after two years he was convinced he was destined for another industry. "I have always loved the restaurant industry, and if I hadn't received a football scholarship to Morehouse College, my backup plan was to attend culinary arts school and become a chef."
In 2010, Dominique was able to merge his two passions and became a Certified Restaurant Broker with We Sell Restaurants. The rest is history. In Dominique's word, "I'm very lucky to have joined a firm that gave me a chance at age 29 in an industry where most brokers are over 50."
Dominique describes his approach to work to his role simply saying, "Every day I work like I have nothing in contract." He added, "I took my restaurant brokerage business very seriously this year and reviewed my goals and vision board regularly to stay on course." When Dominique isn't busy as a rock star restaurant broker, he enjoys fitness, traveling and sightseeing, and most of all spending time with his wife and daughter. In January 2018 his daughter, Amaya will be launching her very own shirt company, Young Minds Brand, with the entrepreneurial guidance of her father. The 11-year-old will use the proceeds from her venture to actively contribute to her 529 plan for college, and eventually law school! Talk about a family of achievers!
Eric Gagnon was also named to the 2017 list of top producers as a member of the group performing Multi-Million dollar transactions. The co-founder and President of We Sell Restaurants, he is the past President of the Georgia Association of Business Brokers and has received the GABB Lifetime Million Dollar Club Award as well as the prestigious GABB Phoenix award for a decade of achieving million dollar status. Business Brokerage Press first designated Mr. Gagnon as an Industry Expert over a decade ago. In addition to GABB, Eric is a member of the International Franchise Association (IFA), the International Business Brokers Association (IBBA) and the Southeast Franchise Forum (SEFF) where he serves on the Board of Directors. He is also a member of the Business Brokers of Florida (BBF). Eric is licensed as a broker in Georgia, South Carolina and Florida.
For listings from these top producing brokers in the GABB, take a look online at the nation's largest website for restaurants for sale at the link below.