BizBuySell's Insight Report is out and business transactions overall fell by 5.5 percentage points last year. At the same time, Restaurant Brokerage firm We Sell Restaurants report the market for restaurant sales is strong and transactions grew by 22.1%. The firm saw impressive increases in the earnings and sales volume of restaurants changing hands.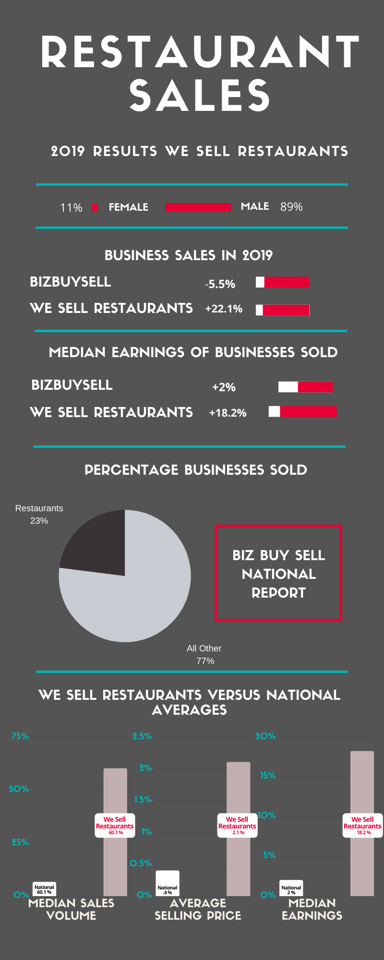 With 2020 officially underway, We Sell Restaurants is weighing in on the recently published BizBuySell Insight Report which is the lead form of information on business sales nationwide.
According to the 2019 BizBuySell Annual Insight Report, "While small business sales still remain at historically high levels, 2019 transactions took a five percent dip from record-setting 2018 levels."
They report 9,746 closed sales were reported by brokers in 2019, a 5.5% decrease from the 10,312 deals reported in 2018.
We Sell Restaurants is reporting 22.1% gains over the prior year in transaction count, a statistic beating the national average by a factor of more than 5 to 1.
The BizBuySell Insight report indicates that, while "transactions dipped slightly in 2019, the financial health of small businesses increased with the median revenue of a sold business at $567,000 up seven percent from 2018's 531,653.
In addition, they reported cash flow from businesses sold in the six figure range and up two percent from the prior year at $122,506. Overall, they say "While 2018 set the record for most transactions, 2019 has been characterized as having the most financially strong business transactions."
How did restaurants fare in this market? BizBuySell says overall, "Restaurants helped pace the strong 2019 financials while experiencing more than 3 percent growth in both median revenue and cash flow." Restaurants represented 23% of the total businesses showing up in the hands of new owners. That means 2,242 restaurants changed hands last year nationwide out of the total of 9,747 small businesses sold.
By contrast, the nation's leading restaurant brokerage firm, We Sell Restaurants is reporting median cash flow for our sellers was up 18.2% versus the national average of 3%.
We are also reporting that for our sellers, the average sales volume over the prior year increased 60.1% versus the national average of 6.6 percentage points reported by BizBuySell, ten times better than theirs for the year.
Eric Gagnon, President of We Sell Restaurants, said of the results, "Buyers paid premium pricing for the best listings in the market. That means they wanted higher value listings that were posting strong sales and earnings."
BizBuySell indicated overall gains in the fourth quarter where "transactions bounced back to positive growth" and "levels remain historically high." BizBuySell's Insight Report found that Q4 2019 for all businesses outperformed Q4 2018, with 2.3 percent more transactions taking place. They report that the median selling price grew 8.7 percent,
The fourth quarter of 2019 for the nation's largest Restaurant Brokerage brand, We Sell Restaurants, saw the count of transactions up by eight percentage points roughly 3 and half times the 2.3 national gain cited by BizBuySell. However, We Sell Restaurants saw the average selling price of restaurants for sale increase 62.2% over the 2018 selling price averages versus the national median selling price gain of just 8.7%.
On an earnings basis for fourth quarter, the BizBuySell Insight Report found median cash flow was up 2.4 percent. For We Sell Restaurants transactions completed in fourth quarter, cash flow was an average of $116,310, a very strong reflection of earnings far above the six figure mark.
The Insight Report also reported on sales by market though they limited this to cities with at least 50 transactions. Notable increases were seen in Richmond Virginia, Baltimore, Detroit, San Antonio, Dallas and Houston who all experienced gains of more than 23 percent.
We Sell Restaurants performed some demographic analysis on buyers. Their buyers in 2019 were found to be 47.2% Caucasian while 52.8% were from other ethnic groups. Buyers were predominately male with 89% of all transactions acquired by men and only 11% by women. In the breakdown between Franchise or Independent restaurants, 67% were franchise locations while 33% were independent restaurant for sale stores.
We Sell's average days on market was 204 days an increase over the prior year of 10%. We Sell Restaurants co-founder, Robin Gagnon attributed the longer days on market to the count of franchise locations sold noting, "We count our days on market from the date the listing agreement is signed until the closing occurs. For many franchise locations, where training is required prior to the closing and with long lead times to accommodate the corporate requirements, this can dramatically affect the number of days on market.
What's on the horizon for 2020? We are taking a cautiously optimistic approach by balancing continued strong economic news with the regulatory impact of minimum wage increases as 24 states raised their local minimum on January first of this year. The negative impact on the restaurant industry of the minimum wage increases will, in these Restaurant Broker's opinion, be offset by the overall gains the economy will experience with the trade deals signed into law with Mexico and Canada and pending for China.
Meanwhile, a BizBuySell survey of business brokers found 75% expect more Baby Boomers to sell their business in 2020 than did in 2019. They say, "With current listings showing even higher revenue than at the same time last year, up 2.8% to $534,558, demand is likely to follow as buyers leap at the chance to acquire such strong performing companies."
Eric and Robin Gagnon expect strong demand in Q1 and Q2. Robin Gagnon says, "With the uncertainty of the impeachment process behind the country and despite the political turmoil, the economy continues to turn in excellent results which the restaurant industry benefits from. We expect continued strong sales that will outperform 2019."
To see the strongest inventory of restaurants for sale online visit our website.

The BizBuySell Insight Report is a nationally-recognized economic indicator that tracks the health of the U.S. small business economy. Each quarter, BizBuySell analyzes sales and listing prices of small businesses across the United States based on approximately 50,000 businesses for sale and those recently sold, reporting changes in closed transaction rates, valuation multiples and other economic indicators for the small business transaction market. Closed transactions are reported to BizBuySell.com on a voluntary basis by business brokers nationwide. Each report includes real small business data on over 70 major U.S. markets and across 65 small business industries.