Are you looking to get out of the corporate world or ready to start a new life venture? Do you need high six figure earnings but worried you can't replicate that in a business of your own? Maybe you want to avoid the risk of starting a business from scratch and need to see verified income. In that case, check out the top ten restaurants for sale on our site with high earnings and perfect books that are ready to go with lending. Put just 20% down and leverage your cash while pulling in six figures TIMES TWO to suport your family. Here are our restaurants for sale around the country that qualify.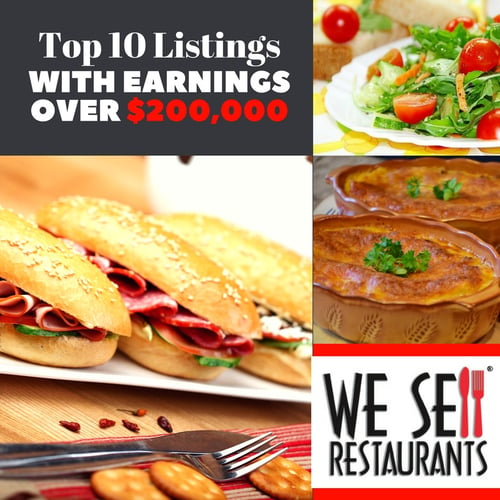 How about Colorado?
Colorado is a beautiful state where the scenery and lifestyle could not be better. We have two Restaurants for Sale in that State with Discretionary Earnings of over $200,000.
Listing # 6121 is an Italian Restaurant with $1.3 million in sales that's kicking out a quarter million-dollars in owner benefit. You can also be qualified for an SBA loan, with just $140,000 down. Benefits of this business include:
Located half-way between Colorado's two largest cities and puts Douglas County in an enviable position to attract business.

2400 square foot facility seats 100 customers comfortably.

ALL recipes are authentic dishes from family recipes, passed down through generations.

Fully equipped commercial kitchen has it all: pizza oven, large dough mixer, cook line with reach in coolers, grill, oven, salamander, walk in cooler, and much, much more.

Owner benefit is at a whopping $270,000!

Sale Price is just $650,000!
The current owner-operator runs his business tight and lives and dies by the numbers, resulting in an excellent income. This Italian Restaurant for Sale Today has just recently expanded and sales are up from last year, not even counting the 40 seats just added. Nearby are large anchor stores and four to five hundred parking spaces, a busy intersection with 50,000 cars passing by each day.
A multi-unit opportunity is second on our top 10 lis.
Listing # 5819 is a rare business opportunity for you that allows immediate multi-unit ownership for three National Brand sandwich franchises that are in the Metro Denver area. Read below for a snip of a 3-store package that can all be yours and give our Restaurant Broker a call today for more details!
Close enough together to easily manage while far enough apart to attract different customers!

Doing sales of over $2 million each year combined.

Good long-term leases in a tight occupancy market, with options to renew.

Easy sizes to manage at just 1805 square feet, 1950 square feet, and 1805 square feet.

Corporate training will be provided

Owner is taking home just over $250,000!

Sale Price is just $829,000!
The current proprietor is absent, so there is a strong potential to grow sales with hands-on marketing and ownership. These Restaurants for Sale Today, are a simple concept that don't serve alcohol, do any frying, or require late nights and lots of labor. This is an award winning, top ranked brand that is showing consistent growth and expansion and has a superior support system. However, a buyer must demonstrate strong liquidity and have relevant multi-unit food service experience to qualify for this outstanding opportunity. The franchisor requires the Restaurant Brokers to confirm liquid assets in the amount of $400,000 before any details of this franchise can be released.
---
Why not Florida?
Have you ever wanted to live in or own a restaurant in sunny Florida? Looking to relocate to warmer weather? If so, read below about our Florida Restaurant for Sale Today. Listing 6014 is a Broward County Asian Concept. I tfeatures the following:
Sales in 2016 of more than $ 1.7 Million and n

ewly acquired 4COP liquor license

2,400 square feet with seating for 59 guests indoors plus

1,000 square feet available on the outdoor patio

Fully equipped commercial kitchen: a long hood, wok cookers, six-eye-burners with stoves, char-broilers, fryers, stock pot ranges, ice machines, commercial refrigeration and freezers, and much more.

Outdoor patio is on the water and has six large heaters for chilly south Florida evenings.

Discretionary earnings of $270,000!
Sales and profits are consistent year in and year out, even with an absentee owner. This is perfect as an investment or for a hands-on operator who can better control costs and drive more sales with an ownership presence. The Las Olas business district is known as the heart and soul of Fort Lauderdale. The district is famous for its sidewalk cafés, boutiques, unique architecture, and swaying palm and olive trees. The Las Olas business district is home to more than 30 restaurants, 75 boutiques, 12 art galleries, historic hotels, and luxury home and yacht rentals. If you are looking for a location with high foot traffic and year-round business, this is the Broward County space for you.
---
Feeling Peachy for Georgia?
Georgia is bordered by Florida to the South, the Atlantic Ocean and South Carolina to the East, Alabama is to the West, and Tennessee and North Carolina are to the North. Georgia is the largest in land area, of all the states East of the Mississippi River. Why not own a restaurant in Georgia and start earning that profit today! Keep scrolling down for six opportunities that offer six figure earnings.
#4 – Listing # 6213 is a multi-unit smootie concept. Be a brand-new owner of 3 smoothie concepts, all located in Georgia.
Top line sales of over $1.5 million an r

eady for lending with just 20% down.

Fully equipped: Blenders, ice cream freezers, prep fridges, glass door refrigerators, swing door freezers, and much more.

Menu and recipes all transfer in the sale plus f

ull training is provided for 2 weeks.

Rents are only $3591.91, $2505.59 and $3316.67 monthly.

Royalties of only 6% of sales.and m

arketing fee is just 3% of sales.

Earnings of nearly $225,000!
Buying these franchises for sale like these is an instant path to earnings. Part of a well-known brand has grown to over 800 locations and counting, fueling your purpose across three continents. Simple franchises for sale are turnkey and ready to continue sales of $1,515,489 under your ownership, as employees are willing to remain in place after the sale.
#5 – Listing # 6184
Don't miss out on this Marietta Restaurant for Sale Today that serves up savvy cocktails and craft beer, along with delicious dishes using only the freshest of ingredients. Is this sounding like it is up your alley? Let's dive in to this Restaurant for Sale Today.
2017 annual sales of just under 1 Million, this one q

ualifies for Bank Lending.

1800 square foot restaurant for sale that seats over 60 guests inside and

28 outside seats on a beautiful patio.

Total rent is only $1900 NNN.

Menu consists of delicious appetizers, salads, sandwiches, and entrees plus a full bar

Owner benefit is at a massive $220,000!
Located in a charming, hip dining and shopping scene of Marietta, Georgia, this successful and long-standing Restaurant for Sale Today is so desirable and well-known that we must keep it confidential and will only reveal to well qualified buyers. Marietta is a terrific place to own a restaurant for sale as the area is densely populated with both businesses and households. The median age is 34 with close to 50% of the population being married families. Perfect for a moderately priced successful business such as this.
#6 – Listing # 6178
Is a restaurant too much for you to handle? Would you rather be a bar owner, than a restaurateur? If your answer to those questions are "Yes", check out this Bar for Sale Today!
20% down should qualify for SBA lending as n

et sales in 2017 exceeded $1.2 Million.

4,000 square feet inside that can accommodate 150 guests and o

utdoor patio that can seat another 70 customers.

Owner benefit is at a massive $220,000!
A bar for sale like this one is a rarity! The current owner spends about 20 hours per week overseeing service and quality, but this business could easily be run by an absentee purchaser, as it is fully staffed with managers in place. As it doesn't open until 3:00 PM on weekdays and is closed on Sundays, this provides plenty of opportunity for the next owner! This winning location nearby Kennesaw State is serving the beer ice cold and the simple menu piping hot. Customers rave about the reasonable prices and great food; in addition to, being one of the best places around to go unwind and grab a drink. Kennesaw State currently ranks 3rd in size of all Georgia universities with over 35,000 students. This profitable bar and grill for sale is a local favorite and benefits from the growing student base. Additionally, the area is seeing double-digit population increases.
#7 – Listing # 6026
Atlanta is a mega market. Get instant earnings of nearly a quarter million on this bar for sale.
Cranking out nearly $1 million in Sales. This BAR, yes, BAR will

qualify for SBA lending with 25% down.

3600 square feet seats up to 150 people.

Perfect books and records!

Owner benefit is at a substantial $240,000!
Established since 2013, this one shows no signs of slowing down anytime soon. The current seller is looking to sell for a lifestyle change and if you like sleeping in and having Sundays off then this is the right lifestyle change for you too! The hours of operation are Monday through Saturday from 5pm through 2:30 am and closed every Sunday.
Signature cocktails and rotating draft beers from local Atlanta breweries mixed with their unique bar bites make this this cash cow easy to run! The location of this bar for sale couldn't get much better, nestled right in Atlanta metro amidst tons of hip eateries and nightlife. Bring your offers!
#8 – Listing # 5699
Read below for information on our Pizza Restaurant that could make you $$, all while enjoying that iconic past-time favorite food. Contact our Restaurant Brokers Today!
Voted in Pizza Magazine as one of "America's Top Pizza Chains", this store g

rossed nearly $2.2 million in Sales.

Delivery sales equal 35%-40% of Total Sales, with 8-10 drivers delivering in a three-mile radius.

3,820 square feet with seating for 170 guests inside and s

eating for 55 guests on the patio space.

Owner Benefit at a whopping $265,000!
Tourists are known to visit this location to take pictures in front of this legendary restaurant and to enjoy a unique, distinctive slice of pie. A new owner can improve sales with the recent beer and wine license added this year. Does this sound exceptional to you? Let's talk.
#9 – Listing # 5676
What crosses your mind when you hear Bar and Grill? Is it "Mmmm...That sounds good"? If so, we have a Bar and Grill for Sale Today that could be yours! Read about our listing below and if this is something that catches your eye, give our Restaurant Brokers a call today for more information.
Annual sales of $2 Million in an

8,500 Square foot space with stunning architecture with amazing views.

Inside seating for 230 customers and o

utside seating for 40 more customers.

Owner Benefit is $260,000!
Location is everything and this bar and grill for sale is perfectly situated close to downtown Atlanta, and conveniently located within proximity to the hustle and bustle of the up and coming Atlanta film industry. The atmosphere is comfortable and cozy with stunning views for diners.
---
Do you love North Carolina?
North Carolina is the 9th most populous of the U.S, coming in with 10.17 Million people, according to the 2017 census. This is DOUBLE the size of South Carolina. With all these people, who wouldn't jump at a chance to own a booming Restaurant for Sale Today and put all that cash in their pockets? Read below about our wonderful listing in North Carolina, that can help you grow your bank account, and contact our Restaurant Brokers Today!
#10 – Listing # 5869
Own your own franchise with banker's hours! That's right! Open only 7:30 am to 3PM daily Monday through Friday, this is a rare opportunity with earnings on the books of $225,000.
Sales of almost $900,000 produce amazing return due to limited labor hours.

Lending approved with just 15 – 20% down.

Limited hours of just Monday-Friday 7:30am-4pm. – NO Weekends or Evenings!

Three weeks of training and s

upport by a Franchise Business Consultant for a full week during the transfer

Owner Benefit is a magnificent $225,000!
This restaurant franchise for sale is part of the modern city center that is also home to the Levine Museum of the New South and hands-on science displays at Discovery Place. Uptown is also home to the NASCAR Hall of Fame.
---
Wow, there's over $2 million in earnings in this top 10 as every single listing nets to an owner operator more than $200,000. Better yet, every single listing qualifies with the Restaurant Brokers SBA lending resources with just 15% to 20% down. Want more details? Visit our listings online at this link.