Wondering what the most popular restaurants for sale were in 2017 on our powerhouse website? We were too! That's why we ran a report to find out. The answers might surprise you.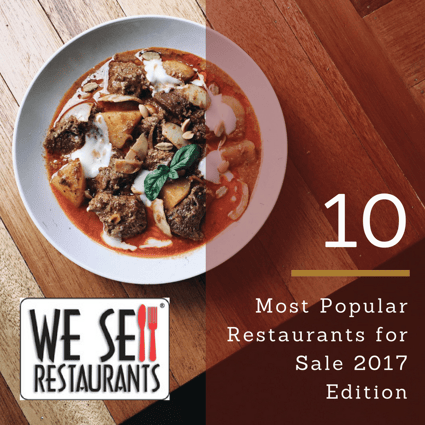 Of the most popular listings, four of the 10, or forty percent, were franchise restaurants forsale listings while two were restaurant for lease locations. The remaining most popular restaurants for sale were indepedent oncepts, ranging from money-makers to asset sales.
Landing at the top of the most popular restaurants for sale based on page views was a package of three Papa John's restaurants for sale in South Carolina. These stores were only listed for a few short months before gaining hundreds of signed confidentiality agreements and going in to contract. The three pizza restaurants for sale were grossing over $1 million dollars in sales volume with an absentee owner. The buyer plans to be full time in managing the locations going forward which are all located in the central Florida market. What caused this owner to sell his restaurants? He was an absentee operator and moved into a very successful unrelated business requiring his full time expertise. The restaurant brokers were excited to see this fast turning multi-unit franchise restaurants for sale listing at the top of the list.
Who came in second place? It was a Whopper of a deal! The second most popular listing in the restaurant brokers inventory for the year was a Burger King restaurant for sale in Cobb County, Georgia. The traffic was off the charts on views on the We Sell Restaurants website despite being sold in a prior year! That gives you an idea of what people are searching for as they go online looking for the best restaurants for sale in the country.
Third on the list of most popular restaurants for sale based on page views was a Subway franchise for sale in Palm Beach Gardens Florida. Part of one of the world's largest franchise groups, this Subway franchise for sale sold in February but still kept pulling traffic to the highest ranking restaurants for sale website for months after that.
What type of listing gets a lot of views? One offered by the restaurant brokers with the words, "Lounge & Bar" in the title. One of the most viewed pages of the year was another sold listing -- a Lounge and Bar in Smyrna Georgia that racked up thousands of views.
A restaurant space for lease in Fort Lauderdale Florida, also racked up thousands of views for the year 2017. The former Tedesco Pizzeria, sold by Restaurant Broker Ken Eisenband, was number five on the top ten restaurants for sale this year on our website.
Another Florida listing, the "Meatball Market" was also front and center of those clicking and viewing the restaurants for sale online. This pizzeria for sale location was a hit with restaurant buyers since it was both recently remodeled and served up Italian specialities. The location, in a shopping plaza on a main road with traffic counts of 23,000 vehicles per day and a nearby and very large active adult community were also key factors in the sale. Strong demographics with more than 110,000 residents with an average household income of $70,000 drove buyers to this restaurant for sale.
Another Georgia listing with thousands of views was The Plant in Atlanta Georgia. This restaurant for sale, offered by restaurant broker Steve Weinbaum garnered a lot of looks in a short period of time on the market.
Restaurant Space for Lease is always attractive for buyers and a location in Johns Creek at Abbotts Village was number eight on the list of the most popular restaurants for lease or sale in 2017. This location drove strong interest and was represented by Cyndi Weinbaum.
An established food truck for sale in South Florida brings us near the end of the top ten restaurants for sale viewed on our website in 2017. The event relationships already in place for this Chicken Wing and Burger Truck had a lot of buyers focused on this business opportunity. No one's pulled the trigger to buy this food truck for sale yet and it's still on the market and gettin lots of traffic each day.
The final entry into the top ten restaurants for sale is a small franchise location in Austin Texas represented by franchise partner and Certified Restaurant Broker Dave Duce. With well over a thousand views, this proves that things are bigger in Texas!
For more information on these top listings for 2017 or other restaurants for sale, visit our website online at this link.