There are all kinds of new franchise expansion deals happening across the country that the Restaurant Brokers are excited to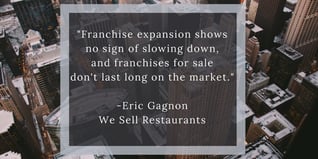 tell you about. From world-famous Dunkin Donuts expanding into a new market in Minnesota to location openings of fast growing cafés, wing, and burger concepts, there are franchise expansions happening across the board. These are all new transactions being built from the ground up. Of course, We Sell Restaurants has dozens of existing franchise for sale listings online. available at this Read on to check out what's been happening in the franchise restaurant world.
You'd be hard-pressed to visit any city or large town and not be within a few miles of a Dunkin' Donuts store, and America's Favorite coffee and donut stop has announced even more locations to open. The Rochester, Minnesota area will see four new Dunkin' Donuts stores, with the first scheduled to open its doors in 2019. These locations will be opened by Donut Kings, LLC, who also signed an agreement in 2016 with the donut giant to open three locations in the Mankato, Minnesota market. The first of the three locations from the 2016 deal opened in March of 2017.
Dunkin' is offering special development incentives to encourage franchisees to jump on board the donut train and expand, especially in the Duluth, Michigan area. For anyone not interested in an existing franchise for sale, and instead wishing to open their own franchise, this may be the brand for you as they are very flexible regarding the format of the real estate for new stores. Dunkin allows new franchisees to open locations in fuel stations, educational institutions, and free-standing locations to name just a few.
Further south in Texas, healthy café concept First Watch opened their fourth San Antonio location in September. This comes after the breakfast and lunch café chain opened three other locations in San Antonio just in the past three months! San Antonians were unfamiliar with the brand until just recently, but it looks like they picked up on the award-winning restaurant quickly as the demand for First Watch locations in the area has continued to grow!
First Watch serves up organic cuisine options, eggs from free range chickens, and freshly juiced fruit drinks to name just a few items. The brand has 105 stores operating across 17 states, the first of which opening in California in the early eighties.
North Carolina based East Coast Wings + Grill, made famous for their award-winning flavors, has announced that it will be expanding its reach into the Indian Trails, North Carolina marketplace. This news comes after the signing of a new franchise deal with Chatpatta Ventures, LLC., who are excited to expand upon their range of businesses owned with their first casual dining acquisition. East Coast Wings + Grill currently has 60 locations operating or in the developmental stages, along with plans to open 11 more stores up and down the east coast.
Rounding out the news of franchise expansions is the announcement that MOOYAH Burgers, Fries & Shakes has opened its first Pennsylvania location. Two Guys from Italy restaurant owner John Valerio brought the brand to Dickson City, after he tried the food on a trip to New Jersey and saw the potential it had. Valerio is excited about the possibility of opening even more locations in Pennsylvania after he can determine the success of his first location. MOOYAH is a burger chain made popular by its multiple meat, cheese, and bun options including its signature lettuce bun which is featured on the Iceburger.
There you have it, deals being made and locations popping up at incredible rates! Want to get in on the franchisee action? Check out WeSellRestaurants.com for our up-to-date existing franchise for sale listings as well as hundreds of other restaurants for sale.