February, the month when love is in the air! The We Sell Restaurants website feathing restaurants for sale was feeling the the love! Curious to which restaurants were the most sought after? Be still your heart! We've got the answers. Franchises for sale and Italian restaurants for sale trumped all other categories. What else made it to the top? Read on to find out!

Franchises for sale are always a hit on our website, and February was no different. At the top of the franchises for sale category AND overall is this sandwich franchise for sale in Austin. Wondering what made this one come out on top? Originally priced at just $45,000, the seller dropped the price by $5,000 and is agreeing to pay half of the transfer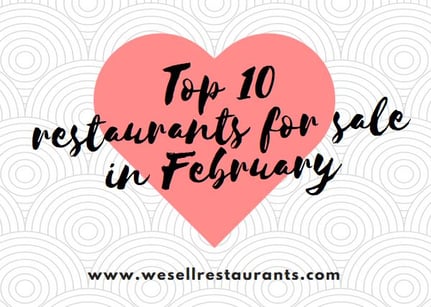 fees!
The second most popular franchise for sale on our website was this Ben & Jerry's in sunny Florida. There's no questioning why this listing was so popular – the Ben & Jerry's name speaks for itself. The owner of this one is scooping up six figures to take home each year as well! Our final franchise for sale in the top 10 is this sandwich franchise for sale in Texas that qualifies for SBA lending. This business is part of a major brand that is well-known and easily recognized! It's easy to see why these franchises for sale came out on top!
Buyers can't get enough of our Italian restaurants for sale, and pizza restaurants for sale remain the most popular in this category. At the top of the list was Bella Nonna Gourmet Pizza in Boca Raton – it was so popular that We Sell Restaurants Franchise Partner Ken Eisenband sold it last month as well! Don't worry, we always have the most Italian restaurants for sale on our website!
Check out this Italian restaurant for sale in Austin with a beautiful build-out. Buyers love this one for it's beautiful build-out! Rounding out the Italian restaurants for sale category is this pizza restaurant for sale in breathtaking Boynton Beach. This one was on the hot list for buyers in February thanks to the built-in drive-thru window, not to mention the top-notch location!
Valentine's Day must have been on our buyer's minds, because this listing for an upscale restaurant for sale was popular last month. Not only is this beauty located in the Sunshine State, but the landlord pays for ALL the building maintenance!
This Greek restaurant for sale on Las Olas garnered the attention of lots of potential buyers! Not only is the build-out flawless, but it also features a 4COP liquor license with a value of almost $150,000.
Speaking of liquor licenses, this bar for sale also made the top 10! When buyers see a 100-seat bar for sale with a lease rate that includes utilities, it's no wonder this piqued their interest!
Rounding out the February 10 most popular restaurants for sale is this restaurant space for sale in Austin. After a $50,000 price reduction, buyers saw that they could steal this one for less than $50,000, AND it's located in booming north Austin!
There you have it, these were the 10 most loved restaurants for sale on the We Sell Restaurants restaurants for sale website in February. Ready to buy a restaurant for sale for yourself? Click on the link below to be taken to our restaurants for sale website. Thinking now is the time to sell your restaurant? The Restaurant Brokers can help with that, too! Click here to find out more about listing your restaurant for sale!