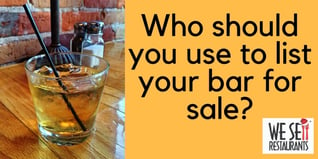 No two people are created equally and the same goes for listing agents. If you are interested in listing your bar for sale, here are a few specific types of agents to avoid and why.


If you want your bar for sale to sell (and what seller doesn't?), the key is to use a listing agent that specializes and has experience in restaurant sales. A specialized listing agent brings not only experience, but they also know the buyer qualification process and how to list your bar for sale at a price that will sell it quickly.

Like most bar for sale owners, you probably don't want anyone other than potential buyers to know that you are selling – selecting the right agent that knows how to market your bar for sale in a way to protect the identity is the first key. Finally, you need to select an excellent negotiator when it comes time to close the deal on your bar for sale. A good agent is invaluable as they know how to steer the deal back on the straight and narrow when the road starts to get curvy.

Now that we have covered what type of professional you need to enlist the help of to list your bar for sale, let's go over some of the people to avoid and why:

Residential Real Estate Agents – Some real estate agents put on a façade that they are business brokers. Be prepared to be approached by a real estate agent when you decide to list your bar for sale. If you choose a real estate agent to take on the task of listing your bar for sale, you are not just doing potential buyers a disservice, you are doing yourself a MAJOR disservice. Residential real estate agents are experts at valuing and marketing homes, not businesses, and especially not a bar for sale. If your best friend Jenni the real estate agent wants to sell your bar for sale, do yourself and Jenni a favor and kindly decline the offer.

Commercial Real Estate Agents – While a commercial real estate agent has a completely different level of knowledge than a residential agent, they still won't be the your best bet for selling your bar for sale. While their knowledge of land value, investment properties, and leases is vast, they typically do not have the expertise to sell a business that is currently in operation. They will not know how to go about marketing your bar for sale when it comes to resources or ad composition. Most commercial real estate agents already have a LOT of listings on their plate, and while they will take on your bar for sale, they won't give it the attention it needs to get it sold.

General Business Broker – A general business broker sells everything from gift shops to gas stations, and they may tell you that they have successfully listed many a bar for sale, but make sure you look at their listings to see what they are selling a bulk of. While a general business broker is a better choice than the previous two types of agents just covered, the bottom line is they are not a Restaurant Broker. It is crucial that you find someone with knowledge of the restaurant and bar industry to price your bar for sale. Only a Restaurant Broker can look at your profit and loss statement and immediately value your business.

When you decide to list your bar for sale, keep in mind that the Restaurant Broker is going to be the captain of your team. If your goal is to sell your bar for sale, don't go with anything less than the best. The Restaurant Brokers are ready to talk to you about your bar for sale, contact us today at 404-800-6700. If you are a buyer in search of bar for sale listings, click the link below to see all of our bar for sale listings.