Interesting in selling your restaurant? Here are five the absolute worst decisions you can make to keep the deal from happening, torpedo a would-be transaction and shut buyer's down cold once they do express interest. Most people only tell you the sugar-coated version of how to sell a restaurant. We're digging into the down and dirty advice from the We Sell Restaurants. We've seen it all, but these five instances are the key reasons a deal gets sidelined and buyers move on.
Ignore the Broker's Advice for Listing Price
The restaurant broker performing the valuation on your restaurant is relying on comparable sales, multiples based on the market conditions, lending approvals and years of experience to set the selling price. As the seller, you're relying on what you "need" or "want" for the business. Buyers are not interested in what you need from the sale or what you want for the business. They are interested in obtaining a business in line with current market conditions for similar businesses with comparable earnings.
When you tell the restaurant broker that you want a price of $295,000 on a listing valued at $225,000, you are setting up a scenario for disappointment. Make the decision up front on accepting advice or pay the price in lost months of opportunity and wasted marketing efforts.
Forget about Operations Once Your Business is Listed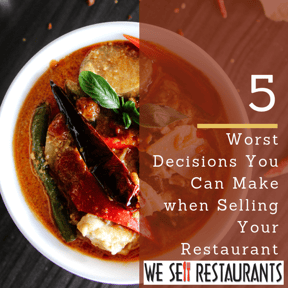 Taking your eye off the ball is never a good idea, especially when selling a restaurant. Just because your business is listed with a Restaurant Broker, that doesn't mean the deal is done. Typically, you have months of waiting before the closing takes place. It's not the time to slack off, in fact, it's time to up your game. You will have buyers visiting as secret shoppers and determining if they want to move forward.
We coach buyers to understand that they are always buying a work in progress and any improvements will lead to a better bottom line for them. However, if last years' service record was impeccable and you're shorting people on night shift to save a few pennies, it will show. That leads to buyer questions. Buyer questions lead to negotiated deal terms and ultimately, impact the value of your business. Decide now that you will keep the operations on track prior to listing your restaurant for sale if you want the best offers.
Forget About Driving Sales; They Don't Matter that Much, do They?
Another surefire way to torpedo a sale and keep from selling your restaurant is to start posting negative sales comps. Positive sales are a requirement, not a suggestion. Above all, stop the bleeding somehow, if you start heading into negative territory. Figure out a way, whether through promotions, advertising, delivery, catering or somehow, to get your sales posted in positive territory until the restaurant is sold.
As restaurant brokers, we work with lenders who routinely deny loans because of sales trending or help sellers craft messages about why the trend is dropping. Don't put yourself in this box unless you're not that interested in selling your restaurant.
Stop Paying your Taxes
Here's another bad decision if you want to shut down all the momentum for selling your restaurant. Begin ignoring the tax man and the payments for payroll or sales tax. If you think these items are not going to surface before the closing, you are dead wrong. All attorneys preparing closing documents should be doing a UCC (Uniform Commercial Code) Lien Search. That search will uncover any unpaid debts and liens. Since taxing authorities are usually the first to file, these liens will show up.
Any liens will have to be paid out of the closing or settled in some manner before you can sell your restaurant. The fact that the liens are there will raise serious doubts in the mind of any buyer. Can you be trusted if you don't pay your taxes? What other bills are out there waiting to surface? These are the doubts raised in a buyer's mind when taxes aren't paid. This tactic is a surefire way to drum up a lot of wasted penalties and interest along with driving away buyers.
Be Less Than Honest, About Anything
There's really nothing you can tell a restaurant broker that he hasn't heard before. What he or she can't help you with, however, is what they don't know. If a pipe breaks and you close the restaurant for two weeks while it's in contract, that's a very material matter that should be disclosed. If your wife caught you with the night waitress in a compromising position, it's embarrassing and should be no one's business but if a buyer is likely to hear about it, the broker should know.
Any situation can be managed if the broker is in the loop. Making the decision to be less than honest or hide something and it will certainly surface at the worst possible time. In most cases, it's another surefire way to keep from selling your restaurant.
There are, unfortunately, many great decisions you can make to help sell your restaurant. Don't sabotage the sale of your restaurant and avoid these five decisions for a successful transfer. Need help selling your restaurant? Reach out to us at the link below.