Ready to sell your restaurant and looking for the right resource? There are plenty of people out there selling businesses. How do you know which one right for selling your restaurant? Here are questions to use on broker including the 5 things one every told you to ask before.
If the broker can't address these to your satisfaction, odds are, he or she is the wrong fit. Starting with the wrong resource adds delays, time and money to the process. Most sellers want to sell for the most money in the shortest time. Ask these 5 things and you'll know who can get the job done. As a seller, you should apply the process of due diligence on your broker long before they ever sell your restaurant.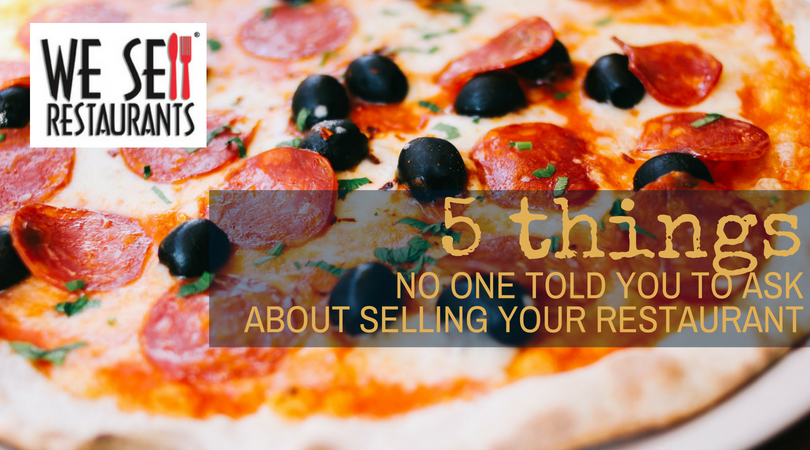 The simplest most basic question deals with experience. Ask the broker exactly how many restaurants they have sold. Seems easy but it constantly surprises me that sellers don't require this information. After all, it doesn't' matter how many daycare, dry cleaner, liquor store and car wash properties the broker has handled. You are interested in how many restaurants he or she has sold. Why? A specialist has an inventory of buyers already focused on what you're selling. Why go fishing in the wrong pond? Go where the fish are biting and the bait is your business. That means a broker who sells lots of restaurants has buyers interested in the food service industry.
Figure out how successful they are at selling restaurants. After all, it doesn't matter how many restaurants they have listed. You want to know how successfully they sell. For that, it comes down to one single metric. Ask the broker for their closing percentage. No one told you before, but this is a statistic that any reputable broker tracks. It is a clear measure of their success in selling a restaurant. It's the count of restaurants sold divided by the count of restaurants listed.
We were shocked to hear at a recent industry function that only one in three businesses listed by one major franchise brand will make it to the closing table. Why would you list with someone with a batting average this low? Anyone who wishes to sell your restaurant should be able to tell you, in addition to the days on market, an average time to closing, along with the percentage of transactions that sell. If they can't, you're dealing with a rookie. While that may be okay in baseball and there are certainly stars among the start-ups, it's a good plan to work with a seasoned professional who closes 80-90 percent of their deals.
No one may tell you to ask this question but it's critical. How many other brokers do you cooperate with and what groups do you belong to? Industry groups often share listings with one broker working the "sell" side and another working the "buy" side. Your chances of selling dramatically increase when the listing is exposed to more brokers. Remember, you want the greatest exposure.
Selling your restaurant is not a one-man sport. What's the team surrounding your broker and what's his or her policy on co-brokerage? Is he or she is not a member of the professional organizations that share listings and work with buyers and sellers nationwide, you will decrease your potential to sell your restaurant.
it's good business practice to ask your broker about their level of education, degrees, industry knowledge and any certifications. While it is not required to have advanced education to sell your restaurant, those with strong industry credentials have dedicated time, money and energy to their education. For many, this commitment to education and follow through puts them in the rank of top producers.
Given a choice between someone with advanced education and someone without, why bet on the uninformed? For the brokerage industry, a Certified Business Intermediary designation or CBI is the industry gold standard of knowledge and experience that's been tested. Less than 500 individuals worldwide hold this designation so a broker that has these credentials is already at the top of their game.
Lastly, ask a broker how they will be investing in your restaurant for sale? Where will it be marketed? Will there be upgraded placement? Who will receive email blasts on the listing and how frequently? What are your marketing channels for exposing the business to interested parties? A marketing plan tells you they have a recommendation and road map for attracting buyers. Without this, they are simply holding the listing until someone comes in the door looking.
There are clear measurements and ways to quantify the quality of a restaurant broker no one bothers to share. Now you have them. Take advantage of these questions to score someone who will get you the most money for your restaurant in the shortest time.