Business transactions are up! According to a national report by BizBuySell, Small Business Transactions jumped 29% in the first quarter of 2017. We Sell Restaurants contributed to that trend with many transactions including a Donato's Pizza Franchise in Huntsville, Alabama, sold by Certified Restaurant Broker Steve Weinbaum.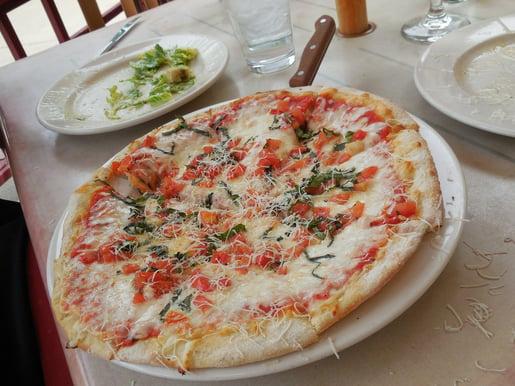 Donatos Pizza is a pizza delivery restaurant chain headquartered in Columbus, Ohio. The brand has nearly 200 locations in eight states and helped to serve up many of the 5.5 billion pizzas sold last year. The buyer, James Weinberger is a local Alabama resident who has already attended the training and taken over operations. He will be spending time as a hands on owner/operator in the store.
This local unit sold by the restaurant brokers has been operating since 1999 and is well known in the Huntsville, Alabama market. The store, located at 7500 Memorial Parkway S in Huntsville has four-star customer reviews on Google. Huntsville is the fourth-largest city in Alabama and the 2013 Census placed the population just short of 700,000.
In its home market of Columbus, Donatos commands a 35 percent market share in the pizza segment. Donatos is on the cutting edge of customer knowledge, market intelligence and digital service. With average restaurant sales over $1M per year, Donatos is one of the strongest financial performers in the pizza segment. The Donatos Pizza concept started as a family owned chain before being acquired by McDonalds in 1999. The founding family reacquired Donatos from McDonalds in 2003.
The seller, Ben Wheeler, has been running the franchise location for over a decade and was excited to turn the reins over to the new buyer. Delivering up quality and great service to hungry pizza consumer has it rewards, but Mr. Wheeler decided to take another path. He contacted We Sell Restaurants to list his pizza franchise for sale in September of 2016 and the Restaurant Brokers found a buyer, negotiated the transfer process with the brand and closed on the transaction just 132 days later. It took just 16 buyers working closely with We Sell Restaurants, before the deal was in contract and headed to the closing table.
The legacy franchise pizza restaurant for sale was sold as an open and operating location in its 2600 square foot space that was fully equipped. The transfer includes the remaining term of the franchise agreement and additional option years to renew.
If you're lookcing for a franchise pizza business for sale like this opportunity, our listngs coast to coast can be found online at this link which includes a number of pizza business for sale alternatives.
Ready to sell your restaurant? Give us a call at 1 888 814 8226 or follow this link and we'll get back to you quicklky with a free valuation on your restaurant for sale.