For North Carolina, the restaurant industry is a significant force on the economy. The state has 18,169 eating and drinking locations, $18.6 billion projected sales for restaurants in 2017, and 458,400 employed by restaurant jobs equating to 10% of employment in North Carolina. Statistics from the NC Restaurant and Lodging Association. Today we are looking at summer business in a college town and getting two different viewpoints from local owners.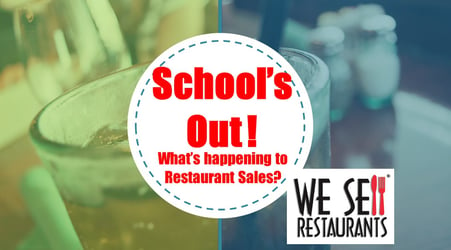 Taking a deep dive into one of We Sell Restaurants' newest franchise locations, the city of oaks and the state's capital---Raleigh. Restaurant Broker Katy Sizemore took to the street to ask local owners what happens when the colleges empty out for the summer months.
Hillsborough Street is an iconic location for Raleigh, North Carolina, and particularly for NC State students. Known for the arts, cultural events, education, recreational facilities, and of course, restaurants. From Mediterranean food to Mexican food, early morning coffee to late night pizza, smoothies to sub sandwiches, this street has it all.
However, what is it that keeps the restaurants on Hillsborough Street thriving? With summer rolling around we wanted to know how the eateries and hot spots stay afloat during the hot months---when the prime audience of these restaurants are off abroad, interning, or home for the summer.
East Village Grill, a sports bar on the corner of Hillsborough Street and Dixie Trail has become not only a happening spot for students, but a nostalgic dining experience for customers that have been eating there over the past 20 years. After speaking to the staff, we got an insight to what it's like being a restaurant within walking distance from classrooms, dormitories, apartments, and the DH Hill Library.
East Village Grill staff explains that the restaurant has a drop off in sales for about a week when school lets out for summer. However, the hometown here restaurant and bar is not hurt by the let out for summer. They go on to explain that Raleigh is not just a college town. The sports bar has plenty of regulars to keep their business going and coming from the neighborhoods surrounding Hillsborough Street. Their business caters to people ages 7-90.
The university hosts tons of summer camps, offsetting the loss of traffic from students. East Village staff also says that plenty of people who are Raleigh natives return home for summer from schools elsewhere and this also adds to their business. Closing the interview, the said that East Village has been here for so long that it has "become kind of a nostalgic place to come here and eat." He says that people who ate here when they were once students at NC State come back to bring their kids.
There is no doubt that the college students enjoy the food, the fun, the karaoke nights, and the trivia and that NC State students make up a large portion of their business. However, Raleigh locals tend to love East Village just the same-a benefit of owning a restaurant next to a college yet in a town that may not only be considered a "college town."
For Owner of Global Village Organic Coffee, Greg Ritchey, circumstances seem a bit different. He noted that at the start of summer, the student population in the area drops by 70% and business tends to follow. He discussed that the mass majority of his business does come from the NC State Students. The challenge, said Ritchey, is convincing people that aren't associated with the university to want to have anything to do with Hillsborough Street. He was happy to say that he is fortunate enough "to have a small core of neighbors who enjoy rubbing elbows with students, faculty, and staff."
On a positive note and offsetting the fluctuation of student traffic during the summer, some of his part time student workers may leave for the summer to go home or elsewhere. It also balances out for other workers during the summer to be able to go on vacation. All in all, Ritchey loves being an owner of a coffee café on Hillsborough Street. He notes that the environment of Hillsborough Street is a wonderful environment and is fortunate to get business from their international students. He described Global Village Organic Coffee as a good melting pot.
While business may come and go for some, it is a certain that the iconic main drag of the North Carolina State University college campus, in Raleigh Hillsborough Street, brings many people for different reasons. Being nestled into the college campus, individual neighborhoods of Raleigh residents, and just a jump off the 440 beltline, people make this their destination for food, drinks and fun!