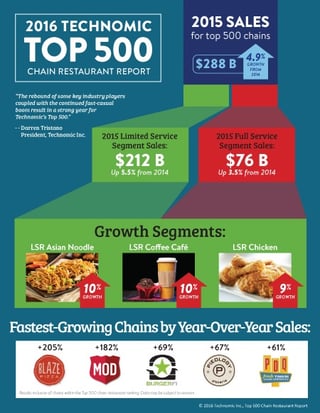 Higher-end quick service is accelerating according to industry data just released by Technomic, a research and consulting firm servicing the food and foodservice industry. President Darren Tristano just noted in a press release that " "In full service, family style restaurants succeeded on affordable value, upscale casual dining chains appealed to more affluent consumers and many traditional casual dining chains appeared to be squeezed in the middle with weaker performance."
Technomic has been bullish on fast casual for some time. Tristano was a guest on the restaurant broker's radio show last year where he fielded questions along with Jonathan Maze (formerly of Franchise Times and now at Nation's Restaurant News). The duo weighed in on the phenomenon of fast food and fast casual versus full service restaurant locations.
According to Restaurant Broker Robin Gagnon, the growth of this category was sparked during the last economic downturn for the country. According to her, "Full service dining never really recovered from the recession of 2008. We saw diners trading from full service to fast casual as they sought a lower price point during challenging economic times. At the same time that full service diners traded 'up' to fast casual, fast food customers sought this same slice of the pie as an upgraded experience over traditional fast food."
The research giant Technomic indicates that trend continues unabated in their latest press release. Technomic President Darren Tristano is quoted as saying, "While the performance of the top 500 chains showed moderate improvement over the prior year, consumers clearly favored patronage of fast casual and fast-food restaurants."
The growth by units were also compared by the data giant and they cited specific restaurant chains for strong growth including Blaze Pizza at a booming 205% unit growth rate, MOD at 182%, Burger Fi at 69% and Pieology at 67%. In all, they show 2015 Limited Service Segment sales at $212 Billion dollars.
Does that carry over to the restaurant for sale marketplace? Restaurant Broker Eric Gagnon says emphatically, "Yes. The fastest segment of the market in restaurant sales right now is fast casual and fast food. Buyers are looking for ventures that are less complex and easier to execute with standardized recipes and lowered need for highly skilled chefs. They also appreciate the return on investment that can be generated from easier control over food costs, labor costs and other variables that affect profitability."
Are restaurant sales growing? Yes, says Technomic' s press release that says, "The 500 largest U.S. restaurant chains posted combined sales of about $288 billion last year, a 4.9 percent increase from a year earlier. Sales in the so-called fast-casual segment jumped 11.4 percent, nearly double the rate of any other segment." We Sell Restaurants says those numbers are in line with the financial results they are seeing on restaurant for sale as they perform valuations and prepare businesses for SBA loan approval. It's also an improvement over 2014 where Technomic pegged overall sales growth at 3.4%.
What's the bottom line on growth in the restaurant industry? All data points toward continued growth in the fast casual and fast food segments at the expense of full service dining.
If you would like to listen to the full broadcast of the Restaurant Broker's interview with Technomic President Darren Tristano, it can be found online at this link or on our YouTube channel at this link.
Technomic, a Winsight company, delivers a 360-degree view of the food industry. They can be found online at technomic.com.