Are they Hot or are they a flash in the pan? That's a question the Restaurant Brokers ask each year when Nation's Restaurant News looks at the "up-and-coming restaurants" to pick their five "Hot Concepts" award winners. According to the magazine, these five brands are "resounding with consumers and have strong growth potential."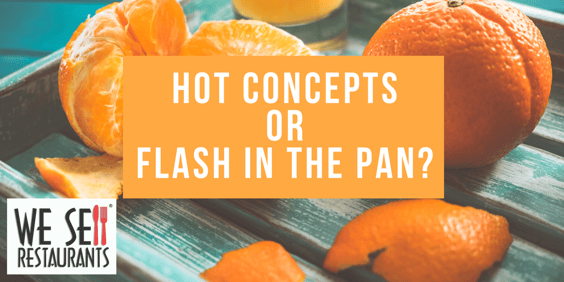 Do the restaurant brokers agree? Well, we have to say this year's field is a far cry from the everyday sandwich shop. It ranges from a "hippie-chic" chain featuring healthy food to a gastropub concept. Here are their Hot Concepts. What do you think?
Flower Child is first on the list. This brand has grown to seven units in three years by combining a focus on healthy food with decor that feels like you're back in the 70's and headed to Woodstock. This is not some small hippie chick's brand however as powerhouse Fox Restaurant Concepts kicked this one off in 2014. That's not the only large player attached to chain. In November, The Cheesecake Factory Inc. made a minority equity investment in Flower Child and North Italia, another Fox Restaurant Concepts brand. The chain has three stores in Arizona, two in California, one in Dallas and one in Austin (with a second store in the works). What is the restaurant broker take? We are seeing this "healthy fare" space fill up quickly with players. We anticipate some fall out in the next 24 months as Americans say they want to eat healthy a lot more than they actually do.
Another concept noted as "Hot" is a fast-casual Korean concept called Bibibop Asian Grill. The idea is cashing in on the popularity of bowls — and Korean food, one of the hottest Asian cuisines currently. The name comes from the Korean dish bibimbap, a Korean dish of rice served in a bowl, topped with vegetables and often an egg and meat. The chain has more than 20 units and has expanded to Washington, D.C., Los Angeles, Chicago and Dayton, Ohio. The restaurant brokers opinion on this one is "Thumbs Up!" There's a void in market for fast casual Korean while most other Asian concepts are well represented. This has some space to grow.
Third on the list of hot concepts is the seven-unit, Minneapolis-based chain called New Bohemia. This brand is calling itself fast casual and mixing it up with alcohol as the focus. They have a beer and liquor mix of up to 50 percent. The units also have games like shuffleboard, bocce ball and even hockey and a menu that features bar food with some additions (like lots of sausages). Their goal is to have 13 locations by the end of the first quarter of 2018. Units could open in Milwaukee and Detroit. The key to this brand's success for these restaurant brokers is to understand their footprint and build out costs. If they go large to accomodate the games, this could be a growth stopper. The large sports bar concepts we're watching are dying under high occupancy costs driven by large spaces.
Another sports bar inspired concept is on the list with B
ubba's 33 as a second hot concept. They identify themselves as a sports restaurant, not a sports bar. The concept was created in 2013 by Texas Roadhouse founder and CEO Kent Taylor. This concept sounds like a heart attack waiting to happen. They tout the bestselling item on the menu as

Bubba's Bacon Burger. The patty is 33-percent bacon. To please the bar crowd, Bubba's 33 pairs several signature burgers with an expansive beer list, totaling 40 brews and 18 beers on draft. With 60 high definition TV's in each location, the restaurant brokers have the same concern for this concept. Occupancy costs have grown significantly over the years and this feels like a large arena. Keeping momentum on this hot concept will mean large spaces and big lease costs. Has the Hot Concepts list just traded the "brestaurants" of yesterday with these sports bars concepts of today? It appears there only around six of these units in existance so far. The restaurant brokers don't see this one catching fire.
The last of the five on the list is
Public School on Tap. This is billed as a
modern-era gastropub chain. They currently have
nine locations in five states, including California, Colorado, Georgia, Nevada and Texas.
The stores are localized with the area codes in each location so they are known as #PS213 in Los Angeles, #PS214 in Dallas and #PS404 in Atlanta. Happy Hours are marketed as "Recess," and the school theme is enhanced with a décor of globes, flash cards and pencil sharpeners.
The gastropub focus, also called "An Education in the Art of Food & Beer," features local, seasonal ingredients when possible and as well as localized cocktails and wines. Will this be a flash in the pan or truly hot in two years? The restaurant brokers feel no one has really communicated the gastro pub concept on a national level so may this will be the one. We'll wait and see. We're on the fence for this concept.
Do you agree that these are the truly "Hottest" concepts of the restaurant world? Have some other suggestions? Send your thoughts to the restaurant brokers at We Sell Restaurants. Meanwhile, check out our restaurant for sale listings online.