Eric and Robin Gagnon will headline an IBBA workshop on Franchise Resales as Business Brokers gather in Orlando to "Fire Up Their Performance"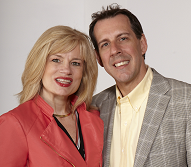 Restaurant Brokers Eric and Robin Gagnon will be presenting at the International Business Brokers Association Spring 2016 Conference in Orlando Florida on May 5. The two will be sharing their tips and trade secrets on franchise resales in a workshop titled, "Steps to Building a Lucrative Franchise Resale Practice."
Their franchise resale workshop will teach other business brokers from around the globe and across the nation key skills needed to position a practice for resale success along with specific industry knowledge including what a business broker must know about the Franchise Disclosure Document or FDD.
The 90 minute interactive session will be a combination of slideshow and audience participation and the description of the workshop states, "franchise resales are exploding as "zees" come of age and sell their businesses. Research shows that legacy units and new brands are turning over at a higher rate than ever before." The workshop will answer the following questions:
How does a seasoned broker capitalize on this opportunity?
What are the key skills needed to position your practice for resale success?
How much knowledge do you need of the FDD?
What happens when you add the franchisor to the transaction along with the lender, landlord and attorneys?

Is there a secret formula to position your firm with franchisors as their reseller of choice?
Experienced franchise resale experts and veteran restaurant brokers Eric and Robin Gagnon are both franchisors of their brand, We Sell Restaurants as well as members of the International Franchise Association, the Southeast Franchise Forum and the Women's Franchise Network. According to the conference materials, "these two have a grasp on franchise resale success."
The IBBA or International Business Broker Association is the largest international non-profit association operating exclusively for people and firms engaged in business brokerage and mergers and acquisitions. This year's conference begins on Monday May 2 and concludes on Saturday, May 7. Participants can expect to receive invaluable education, networking and comradery at the annual conference which is attended by brokers around the world.
The workshop offered by the Restaurant Brokers is part of the options offered to enhance skills sets and assist Brokers in growing their business in line with the theme for this year's conference which is, "The Extra Degree - Fire Up Your Performance."
Eric and Robin Gagnon are principles in the firm, We Sell Restaurants, a business brokerage firm specializing in the restaurant industry. Both are frequent speakers and writers to the industry and along with hosting a syndicated radio show on the topic of buying and selling restaurants for a number of years. They co-authors of Appetite for Acquisition, published in 20112 and named Best of 2012 by Small Business Book Awards. They can be found online at wesellrestaurants.com.