The sale of Ruby Tuesday to NRD Capital this week caught many by surprise. One of the restaurant brokers favorite authors, Jonathan Maze of Nation's Restaurant News, immediately penned an article titled "5 Reasons Ruby Tuesday Had to be Sold." The points in that article align with many of the restaurant for sale listings we advertise each day.
Here are his 5 Reasons the restaurant had to be sold and we'll compare and contrast that with the reasons our sellers ask us to sell their restaurants.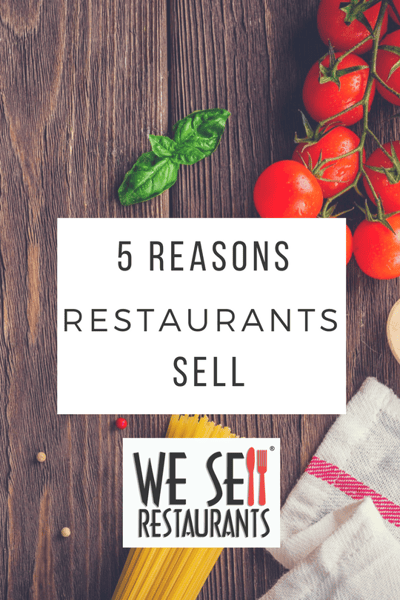 Reason 1 -- "Same-store sales have been falling for years. Ruby Tuesday's same-store sales began declining in about 2006."
Generally, our sellers are contacting the restaurant brokers for this same reason. Once same store sales begin the decline, sellers start to worry and for some, it's easier to pull the trigger on selling than figure out how to grow volume. On the other hand, seeing same store sales rising can also be the catalyst for restaurants to sell. Often our sellers are smart enough to jump when the trend is rising rather than waiting for a fall off in revenue.
Reason 2 - "Bar & grill chains are on the outs." According to Jonathan's article, "Ruby Tuesday operat
es in a sub-sector of the restaurant business that is in steep decline." He cites examples like Applebee's, Chili's, TGI Friday's and Ruby Tuesday as chains that were booming in the 90's but are facing tremendous challenges today. Is that correct? Well, the restaurant brokers agree. Once legendary and quick to turnover, bar and grill chains are not quick sales today. Why? For most, they have very large footprints and along with that, high occupancy costs. Rents have been rising for the past six years and once those per square foot costs are applied to large spaces (these are 5,000 square feet and larger), the monthly cost to keep the doors open can be staggering.
Fast casual concepts operate in smaller footprints and for that reason, can operate more inexpensively, meaning their fixed costs are lower. This is definitely a reason for Ruby Tuesday to sell. It can also be a reason for restaurant sellers to reach out to us. The Restaurant News writer says, "Bar & grill chains likely have to close hundreds of units to get supply more in line with current demand." The restaurant brokers agree.
Reason 3 - "It's more valuable as a real estate play." According to documents filed on the sale and quoted from the article, "the sale to NRD gives Ruby Tuesday an enterprise value of $335 million. Its property and equipment assets are valued at $583 million, according to SEC documents." In other words, the property values exceed the value of the business itself.
This was the first thing these restaurant brokers discussed when we saw this news hit the wire. This is a real estate play. Do others come to us with this reason for selling? Yes. On more than one occasion, we've seen buyers strip out a concept and take it over for the value of the location, the lease, or the property. It's definitely a reason we've seen for others to sell a restaurant.
Reason 4 - "The chain is losing money." There is no doubt that Ruby Tuesday lost money for several years. The article we reviewed stated the chain hasn't seen a profit since 2011. Six years without earnings is definitely a reason to sell. Is it the reason that restaurant owners contact the restaurant brokers to sell their restaurants? It is, but only about 30% of the time. Most of our restaurants for sale are in fact, cash flow positive. We see only less than a third come into the market losing money. Most sellers are looking at other reasons to exit the business including: retirement, partnership splits, divorce, or lifestyle reasons.
Reason 5 - "The Company has a history of strange moves." The last reason cited by the writer is one of our favorites. He said it nicely but essentially said the company does stupid things. He reminded us that even as Ruby Tuesday was on unsure footing, they were exploring and investing in other concepts including: Asian Cuisine, Seafood and even BBQ at one point.
We can't say that this is a common reason for selling your restaurant. What we do see however, is a lack of judgment and failure to make critical moves when a business starts trending in the wrong direction. We review the financials for dozens of locations each month. We often ask sellers why they haven't adopted a delivery model or why they reduced advertising over the past year when sales are declining. Some of the responses reflect less than sound reasoning. The failure to do what's necessary to drive the business creates an opportunity for a would-be restaurant buyer.
All in all, the five reasons Ruby Tuesday had to be sold are on par with the reasons we see many restaurants come into our inventory.
If you're looking for restaurants for sale, check out our inventory online at this link.