The Restaurant Brokers at We Sell Restaurants want you to aid our efforts on this #GivingTuesday. You've made it through Black Friday, Small Business Saturday and Cyber Monday, and hopefully gotten some great gifts for your loved ones for the upcoming holidays (and maybe even a thing or two for yourself!) Before you put your wallet away, don't forget to participate in today's #GivingTuesday. For those of you who aren't familiar with this moniker, #GivingTuesday is a global giving movement built by individuals, families, organizations, businesses and communities in all 50 states around the world. Everyone is encouraged to donate their time or money to a charity of their choice to help make a difference.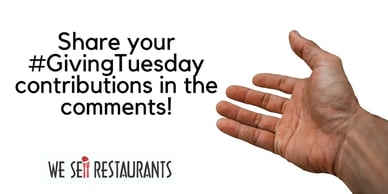 The Restaurant Brokers at We Sell Restaurants established our We Sell Restaurants Charitable Foundation in order to give back to the charities that hold a special place in our hearts.
In honor of #GivingTuesday, we encourage you to head over to www.franchisegiving.org and make a donation of your own. We Sell Restaurants is matching dollars today for the work this group does for veterans, underserved communities and the next generation of leaders in franchising. Think of the difference we can make together! In addition to this contribution, take a look at what else we have donated ion this day as we collectively look at ways to improve our communities.
Adopt a Golden Atlanta – Not only have we contributed $2,500 to this Golden Retriever rescue organization, we also rescued our office dog, Major from here as well! Adopt a Golden Atlanta focuses on finding loving forever homes for homeless Golden Retrievers in order to keep them from living a lonely life on the streets, or ending up in an already overcrowded animal shelter. Not only does this organization find homes for these notoriously excellent family dogs, they also make sure each and every dog that comes through their program receives a spay/neuter operation, medical care, and even behavior training! If you'd like to make a donation (or adopt from!) this organization, visit their website www.adoptagoldenatlanta.com.
Atlanta Community Food Bank - This past October, the Restaurant Brokers headed to Atlanta to volunteer their time at the Atlanta Community Food Bank, in addition to a donation of $1,500. The Atlanta Community Food Bank is a godsend to many Atlanta residents who do not have the means to obtain food on their own. This food bank, like many, does not only provide food for homeless individuals – they also make it possible for childcare providers, shelters and centers for senior citizens to provide meals to those in need. This year alone they will provide more than 60 million meals to over 755,000 individuals throughout the Atlanta metro area as well as northern Georgia. If you'd like to make a monetary donation to the Atlanta Community Food Bank, click here.
The Honor Foundation – The Restaurant Brokers are thankful each and every day for the efforts of our servicemen and servicewomen. As a token of our eternal appreciation for these brave and talented individuals, we have donated $5,000 to The Honor Foundation. The Honor Foundation focuses on providing professional advancement education for Navy Seals and United States Special Operations members during and well beyond their service. Would you like to make a contribution to this foundation? Just click this link and you'll be taken to their donation page!
While we highlight these gifts on #GivingTuesday, our foundation will be seeking out other great causes and committing more money before the end of this year.
Are you ready to help? It's easy to join the #GivingTuesday movement! A simple online search of your favorite charitable organization will take you to their website, and in turn to a page to make a donation. ANY amount helps as we work together to give back in better, smarter ways to the charities and causes we believe in, and help create a better world.
And don't forget – giving back doesn't need to be done monetarily. Donate your time to your local animal shelter walking the shelter dogs, head to your food bank to serve up lunch of dinner to those in need, or set out to your closest park and spend a few hours cleaning up garbage. You can be a real force for good in people's lives. Share your contributions with us in the comments below!