The new wesellrestaurants.com Features Refreshed Design, Enhanced Content, Unrivalled Search and Restaurant for Sale Sort and Filter Functions in Responsive Design.
We Sell Restaurants announces the launch of a new, redesigned version of its website, wesellrestaurants.com. Key features of the site include a cleaner and more attractive design, a more engaging user experience with enhanced search and navigation, and the capability to filter and sort results of the user's restaurant for sale search.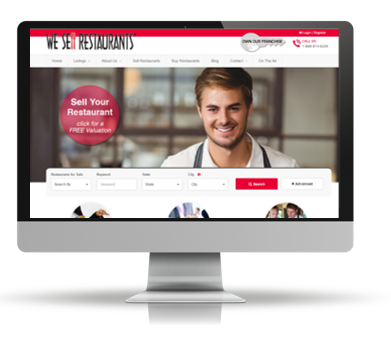 All We Sell Restaurants restaurant for sale listings have been upgraded graphically and the entire experience is linked to the firm's back office, B.O.S.S. (Broker's Operations and Sales System) platform. This provides for instant access to restaurants for sale locations, photos, videos and more from the leading website offering restaurants for sale. It immediately connects the buyer's actions in real time to the restaurant broker who is automatically assigned to the client.
"We are excited to be able to offer an upgraded solution to our restaurant buyers and sellers, ensuring their search to buy a restaurant is unmatched," said Robin Gagnon, Chief Marketing Officer. "By integrating the latest technology in web design, we ensure that customers accessing the site through a mobile device, iPad or laptop have a seamless and integrated user experience. Our goal is allow as many choices as possible in the restaurant for sale search. In addition, we provide a number of free resources for instant download including our guide to buying a restaurant, selling a restaurant or leasing a restaurant."
The site's refreshed and simplified look, combined with enhanced content, improved search functionality, and optimization for mobile devices allows consumers to better interact with We Sell Restaurants online. In addition, promotional areas throughout the website provide the opportunity to highlight individual listings or restaurant brokers. The site seamlessly integrates into the newly launched wsrfranchise.com, the franchise site for the brand.
"Our mission is to sell more restaurants than anyone else, period," said Eric Gagnon, President. "The sleek, customer-centric design of the site provides an innovative platform for restaurant buyers and sellers that will continue to grow our already impressive search engine results, boosting the discoverability of our listings, drive sales, and—ultimately—sell more restaurants."
The new www.wesellrestaurants.com allows for more restaurant for sale search choices, such as search by market, search by franchise name and search by price point, earnings or keyword. Once a search is performed, the user may now filter by key parameters such as SBA loans available, E2 Visa Qualified or Limited hours. They may also sort their results by price point, earnings or listing numbers. The new website has been in development for more than six months and reflects the latest technological advancements in web design online to find restaurants for sale.
About We Sell Restaurants
We Sell Restaurants is the nation's largest restaurant brokerage firm. Now franchising nationwide, the company has listings across nearly 20 U.S. states and has offices open in Georgia, Tennessee, Colorado, Florida and Texas. We Sell Restaurants is a registered trademark of the firm. They can be found online at http://www.wesellrestaurants.com