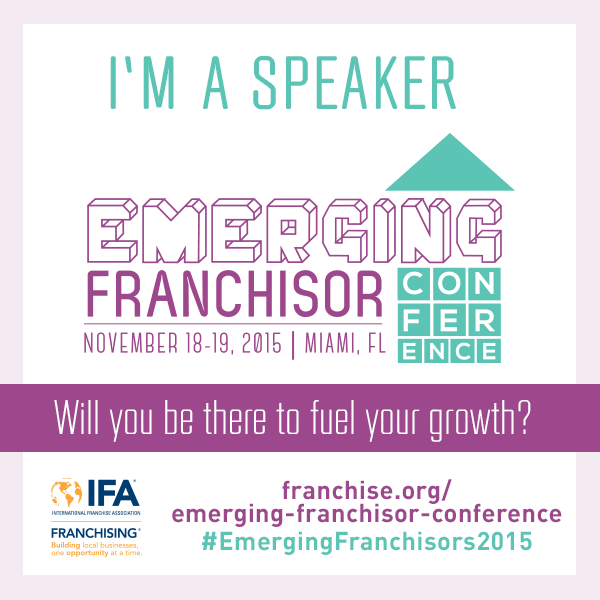 Are you planing to attend the next International Franchise Association event? The Restaurant Brokers will be there on November t8 amd 19, as emerging franchisors gather in Miami Florida for a conference focused on fueling growth.
Robin Gagnon, Vice President of We Sell Restaurants is moderating a panel on Building Your Team titled, "I Have Franchisees and Customers...Now What?" Gagnon is excited about the opportunity to share the stage with experts in the industry and says, "Attending any IFA event is an opportunity to learn and make important connections. This Emerging Franchisor conference is perfect for We Sell Restaurants as we continue to grow and expand as a franchisor."
The panelists for the presentation will include Steve White, Chief Operating Ofice of PuroClean. Steve White has experience in both fast food and business to business franchise organizations. He has been involved in every level of franchise organizations, big and small, including ownership. He has radically changed failing organizations and improved already good organizations. He has driven new growth for franchisees and franchisors alike through organizational change, training, the introduction of new brands and passionate leadership.
Restaurant Broker and franchisor Robin Gagon is joined on the panel by Barry Falcon, Board Member for Concrete Craft. Barry has a professional business career that spans more than 40 years across a range of industries and functions, including technology, operations, manufacturing, consulting, marketing, project management, and business development, Mr. Falcon has over 12 years of direct experience in franchising, both as a franchisee and as an executive/partner within multiple national franchisor systems. Mr. Falcon recently served as CEO/Partner, and remains as a Board Member, at Concrete Craft (formally All American Decorative Concrete), where he implemented organizational and procedural improvements and initiated and led the sale of the company to a large franchise group. Before his tenure at All American Decorative Concrete, Mr. Falcon was President/Co-Founder and Partner, and remains a Board Member, at ShelfGenie Franchise Systems, where he helped to establish the franchise program and was instrumental in growing the concept from zero to 145 locations in five years. ShelfGenie was recognized by both Inc. and Entrepreneur magazines on their lists of top-performing franchise systems. Mr. Falcon was also a franchise owner with Velocity Sports Performance, where he was responsible for overall project management, hiring and training staff, implementing marketing efforts, and more. In the first year of operations, he grew revenues to $800,000.
According to the IFA, those who should attend include: Franchise Operations Executives, CEOs, COOS, Presidents, franchise development executives, franchise marketing experts, franchise relations specialists and anyone looking to grow their business!
The action packed agenda promises to help emerging franchisees:
Discover opportunities unique to your growing franchise system
Be a part of an interactive learning atmosphere where attendees are engaged with one another
Put your skills to the test by taking part in a case study to showcase best practices learned and make your brand go big
Take part in the "Think Tank" and tell a panel of experts why they should "invest" in your brand
For more information or to register for the event, visit the International Franchise Association Website.
Robin Gagnon is a Brand and Marketing Executive Driving Results for We Sell Restaurants, the nation's largest restaurant brokerage firm. Franchisor and Franchise Specialist in re-sell transactions. Author, Speaker, Radio Show Host.