Penn Station East Coast Subs was founded nearly 33 years ago in Cincinnati, Ohio, and since it began offering its name as a franchise for sale has expanded to close to 300 locations throughout 15 states in the country. Wondering why "East Coast" is featured in the brand name? In the 80's when the founder made a trip to Philadelphia Pennsylvania he got his hands on – you guessed it – one of the cities world-famous cheese steaks! It was love at first bite and he took the concept back home to Ohio and began selling his take on the classic out of his own deli. Just as it was in Philadelphia, it was a success in Ohio. So much of a success that he started Penn Station East Coast Subs in 1985.
The Penn Station East Coast subs that was listed by the Restaurant Brokers as a franchise for sale is the sole Atlanta location for the brand. The original owner, Joe Quattro, operated this location for three years before calling upon We Sell Restaurants to list his franchise for sale. Any time we have a franchise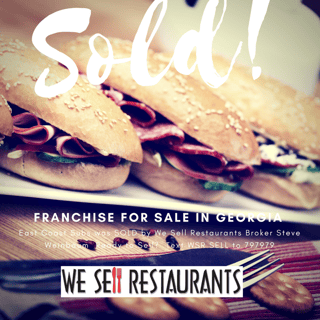 for sale it garners the attention from numerous buyers, and this franchise for sale was no exception. Nearly 60 buyers contacted us expressing interest in this franchise for sale!
In the end, Shiraz Surani came out on top and scooped up this franchise for sale in Atlanta. Originally, Surani was interested in a coffee shop or restaurant for sale, but when he saw the numbers this franchise for sale was doing and the location it was in, he knew it was too good of a deal to pass up! Not only was he scoring an open and operating franchise for sale saving him thousands on a build-out, he was also getting everything that comes with purchasing an existing franchise for sale – in this case that was dozens of positive online reviews, an unheard of low royalty percentage, and training from the seller and the corporate office!
If you are in the market to buy a franchise for sale, click the link below to see all the franchise for sale listings that We Sell Restaurants has to offer across the country. Do you currently own a franchise that you are ready to sell? The Restaurant Brokers have you covered! Give us a call today at 404-800-6700 to speak to one of our customer service representatives about what our Restaurant Brokers can do to help you get your franchise for sale sold! Who knows, maybe your franchise for sale will be the next business showing up on our sold list – and we may be writing about you!