Buzzard's Big Mouth Pizza in Elizabeth is the most recent of Restaurant Broker John Kesterson's pizza restaurant for sale listings to land on the SOLD list. Buzzard's Big Mouth Pizza has been satisfying hungry Coloradans for the past 16 years at their East Kiowa Avenue location. The location is great - within close proximity to other restaurants, a liquor store and a grocery store. Pizza restaurant for sale listings are a hot topic – this one in particular had dozens of inquiries and sold in four months.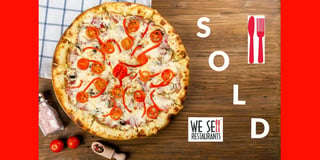 David Ehlen of Colorado Springs is the new owner of Buzzard's big Mouth Pizza in Elizabeth, which is the most populous town in Elbert County. Ehlen has several years of experience in the industry and is currently also a multi-unit Jamba Juice franchisee.
Perry Buswell is the previous owner of this pizza restaurant for sale, having owned the business for six years. Before Buswell purchased the pizza restaurant for sale in 2011 it had been operated by another owner for 10 years. When Buswell decided he was ready to list the pizza restaurant for sale, he enlisted the help of Colorado Restaurant Broker John Kesterson. Kesterson knew he would sell the business in no time thanks to the excellent sales figures the dining establishment has seen over the years, as well as the a-plus online reviews that include:
"The pizza is probably the best I've had in the state!"
"Great Pizza and Calzone. Definitely coming back here. The place was packed on a Monday night at 6 PM."
"This place was awesome! The service & the pizza was wonderful!"
"My husband and I ate here for the first time last night and we were pleasantly surprised."
Are you on the hunt for a pizza restaurant for sale? Click on the link to be taken to our pizza restaurant for sale listings all across the country, and check out all of the listings We Sell Restaurants has to offer.
If you would like one of expert Restaurant Brokers to get your pizza restaurant for sale sold, give us a call at (888) 814-8226, or click here for a free valuation of your business.