What happens when you pair a franchise restaurant entrepreneur and a great Restaurant Broker? A deal of course. We Sell Restaurants announces the sale of Firehouse Subs located at 5610 Glenridge Drive in Atlanta. The transaction was brokered by Certified Restaurant Broker Dominque Maddox.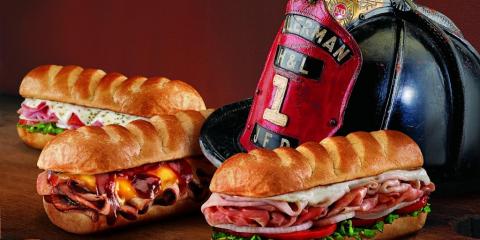 Atlanta multi-unit owner Rohaid Nanji and his group were ready to diversify. These seasoned multi-unit operators of the Little Caesars pizza franchise stores began seeking new opportunities and information on Firehouse Subs. The group has years of experience in not only the Restaurant industry but other ventures. They were ready to diversify their portfolio of restaurants and sought the services of Restaurant Broker Dominique Maddox, a professional with great experience in the brand. They made an offer on the Glendridge Springs store and acquired a second Firehouse Subs for sale by owner at the same time.
The Rohaid group is excited about joining the Firehouse Subs brand and enjoyed the extensive training offered by the brand. They are starting this new experience as newlyweds to the FIrehouse Subs brand and as actually newlyweds since Rohaid not only acquired two stores but was also recently married.
Restaurant Broker Dominique Maddox of We Sell Restaurants had this to say of the transaction. "It is great to work with experienced franchise restaurant owners like this group. They are dedicated to the process and appreciate the systemic approach and process offered in a franchise restaurant sale transaction.
The Seller Rick Szabo is the owner of this Firehouse Subs location and one other in the market. He was downsizing to spend more time with family and cut back on his operations. Rick operates the store with his son Rich Szabo, after they closed on the deal they packed their bags to watch the UGA vs Notre Dame football game.
Rick. the seller said of the deal, "Dominique, your follow up skills were really impressive, and you helped me sell my restaurant. "If I can ever provide a recommendation for you please do not hesitate to let me know." Dominique worked with Firehouse Subs Area Representative Shawn Hooks to get the deal done.
The Firehouse Subs franchise restaurant for sale offered by the restaurant brokers was listed for just one month before receiving an offer. The deal was quickly negotiated and the parties just waited out the training and transition before the Rohaid group could assume control.
Dominique is a licensed Georgia real estate agent and one of only a handful of Certified Restaurant Brokers operating nationwide. A graduate of Morehouse College, he attended the school on a football scholarship and brings competitive spirit and energy to the field of restaurant brokerage. His degree is in Business Administration and he started his career with We Sell Restaurants in 2011. He was named "Rookie of the Year" by the Georgia Association of Business Brokers that same year. Dominique was also elected as a Director to the Georgia Association of Business Brokers for 2012.
For more listings offered by Restaurant Broker Dominique Maddox, visit this link.