Recent headlines about the restaurant industry, in particular the fast casual segment, have not been pretty. In all, national results have unfortunately, been in a slump for the past six quarters. June finally saw a turnaround according to the latest report from TDn2K's Restaurant Industry Snapshot.
The Restaurant Industry Snapshot report show that June's sales and traffic growth were the best monthly performance since January, and the second quarter of 2017 posted the best results since the second quarter of 2016. What's causing the change? For one thing, we're beginning to anniversary a prior year bad performance. That means we're posting better numbers against a weak 2016. In the restaurant broker's opinion, we're also seeing operators confront lagging sales and lower traffic counts and work to improve both.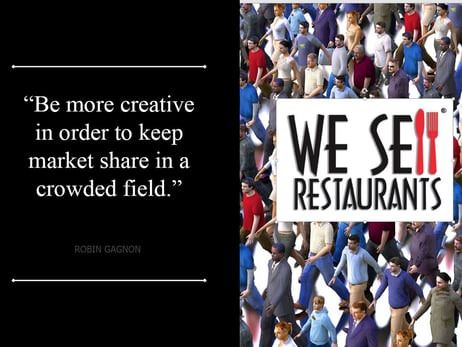 Owners and operators are working hard to both improve traffic and raise sales by focusing on getting outside the four walls of the restaurant. Many more stores are opting for multiple delivery options. They aren't delivering their own food any longer and they now use multiple services to get more meals out the door. Their opinion is that if the business won't come to them, they will make sure the food can get to the homes. The restaurant brokers are also seeing a stronger push for catering, another way to get sales ringing on the POS system.
We are also seeing a large increase in the use of promotional efforts ranging from charitable tie-ins, social media contests, limited time offers, couponing and more. Is it working? When traffic grows, we'll say for sure this is working. According to the latest report, traffic declined by 3.1 percent in the second quarter, a 0.6 percent improvement from the first quarter. Overall, same-store sales fell 1 percent in June and in Q2 2017, compared to a first-quarter same-store sales drop of 1.6 percent.
The fact that average guest checks grew 2.2 percent increase over last year also signals an attention to training and detail in house. We are not seeing wholesale price increases so up selling the menu and putting higher prices on specials is paying off as guest checks creep up. According to the report, check averages have been growing slowly since 2015, when average checks rose by 2.8 percent.
Overall, in keeping with many of the articles we've been reading, fast casual was the weakest-performing segment in the second quarter. There is definitely an overpopulation of this style dining and we see even more thinning of concepts and chains still shedding units over the next 24 – 36 months.
On an interesting note, fine dining and upscale casual were the two segments with positive sales in the second quarter, and have been the best performing segments this year. Does that mean the customer is ready to go back to full service? It may only signify they are having fast casual delivered through one of the concepts like UberEats or Zifty and when they choose to dine out, they want a full service experience.
Overall, the quality of the experience at the store level will commit the customer to the concept and keep them coming back. There is significant competition for the food dollar but the consumer share of dollar eaten out of the house has been rising for years and that trend shows no sign of slowing down. Operators may need to be more creative in order to keep market share in a crowded field.