Interested in a rewarding career in a high-demand field? Those looking at buying a restaurant should consider the restaurant brokerage industry. We Sell Restaurants is changing the way restaurants are bought and sold. Here are the top five things you need to know about our Franchise for Sale opportunity.
Anyone interested in purchasing a franchise for sale will not want to rule out becoming a We Sell Restaurants franchisee. The option makes sense for several reasons! Here are the top five.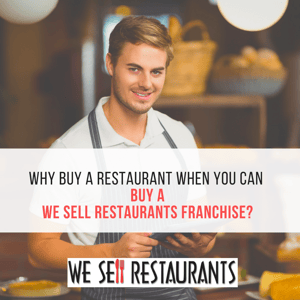 Reason One -- Size Matters.
There are more than one million restaurant locations within the United States alone and that number has been growing every single year. Let's put that into perspective. The restaurant industry contributes a staggering $799 billion dollars to the U.S. economy – a figure that is equal to four percent of the gross domestic product (GDP) of the United States and larger than 90% of world's economies.
The restaurant industry will create 1.7 million new jobs by 2026 and represents 10 percent of the U.S. workforce. Forget the long ago years of dining together around the kitchen table. Today, nearly half of all the food dollars spent by families are spent in restaurants and that keeps building. It's not just new locations but also turnover in locations that matter for restaurant brokerage. As units open, they also close or change hands. That requires the services of a restaurant broker.
As the restaurant industry continues to grow, so do the number of restaurants being sold. In this case, size matters.
Reason Two - Baby Boomers.
The wealthiest generation born in the U.S. are the Baby Boomers, and they will be between 54 and 72 years old this year – retirement age! They are also the largest generation in history and 10,000 will turn 65 every single day until 2030. Baby Boomers are ready to sell their successful restaurants and hit the beach! These Baby Boomers (and everyone else) who wish to sell their restaurants want to get the most out of their investment, and they want to get it done quickly. They aren't going to call just any broker to get this done – they are going to put their trust in a brand and authority who know the industry inside and out.
Baby boomers retiring create many restaurants to sell. That's reason two to look at restaurant brokerage.
Reason Three - Franchise Resales
The franchise industry began in the 50's and Millennials are poised to inherit the family business. For most, staying in the restaurant industry isn't their choice or they want to trade into new concepts. That creates turnover. Turnover is what funds the pipeline of a restaurant broker. These businesses changing hands at a faster rate than ever before is fueling the growth of the industry.
Franchises want to work with other franchise brands. They see the expertise of a specialized brand as important to their decision making process and appreciate the systemic approach of a firm like We Sell Restaurants. That's reason three. As franchise resales grow, the market share of our brand expands within that niche.
Reason Four - Specialization is Key
Those looking to buy or sell a restaurant iare not seeking out a generalist. They want someone who understands the industry and how to value the business. They are seeking the authoritative resource with the experience, knowledge and customer base to get the job done. A generalist who sells a little bit of everything is not the solution. A trusted, national brand like We Sell Restaurants has the authority and is on the leading edge of the industry at all times. That matters to buyers and sellers and should matter to you when choosing a brand to align with.
That's reason four to consider this brand.
Reason Five - Training is Critical
Selling a business is not a simple process. It takes tremendous knowledge and training. The We Sell Restaurants brand has sold more restaurants than anyone else, PERIOD. Those who join the We Sell Restaurants franchise for sale go through extensive training. We want the best who are able to perform at 100%. We provide the only Certified Restaurant Broker program in the U.S. The program is made up of five phases, with the final phase offering one-on-one Mastermind sessions with the founders for an unlimited length of time.
Getting best in class training is the last reason to consider the We Sell Restaurants franchise.
Interested in learning more but wondering what a Restaurant Broker does?" When a seller decides that they would like sell their restaurant, they call a Restaurant Broker to handle the listing. The Restaurant Broker lists the restaurant for prospective buyers to view. There is tremendous effort and funding put into marketing the business. When the buyers contact a Restaurant Broker in regards to the listing, he or she works in negotiations between the buyer and seller to get the listing sold.
Experience in the restaurant industry may be helpful, but is certainly not required to buy a We Sell Restaurants franchise for sale and to become a Restaurant Broker. We are confident that our Certified Restaurant Broker program is so effective in teaching the restaurant brokerage business, that we can turn anyone with the drive and passion for success into a top-earning Restaurant Broker.
The income you can earn by purchasing a We Sell Restaurants franchise for sale and becoming a Restaurant Broker is determined by how much work you are willing to put into your career. Most Restaurant Brokers are able to work from home, as all you need is a computer with a good internet connection and a smartphone. As a Restaurant Broker, you can expect to spend about 40% of your work day on the phone with buyers, another 40% working with sellers, and the final 20% moving deals forward.
So what are you waiting for? Click here to learn more about purchasing a We Sell Restaurants franchise for sale today!