BizBuySell.com, the Internet's largest business-for-sale marketplace, reported a record number of businesses changing hands in 2017. Looking into specific industries, the restaurant sector experienced major growth in the second quarter. The number of closed restaurant transactions increased 34 percent year-over-year, and the median sale price jumped from $165,000 to $195,000. Improving financials likely contributed to higher sale prices. The median revenue of restaurants nationwide increased 7 percent year-over-year from $504,500 to $540,000, while cash flows increased 2 percent to $100,000.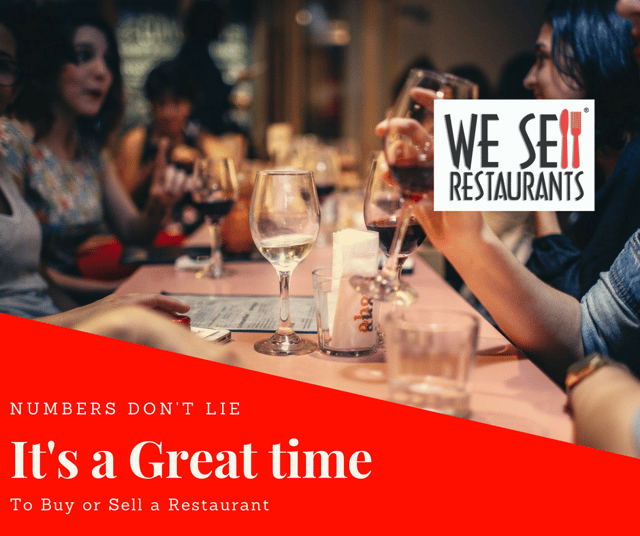 Despite higher asking prices, sales are closing at a faster pace. In the second quarter, the median days on market stood at 168, marking a 5.6 percent decline year-over-year from 178 days. Franchises are also increasingly seen as desirable acquisition targets. Established operating franchises for sale comprised 7 percent of active listings and 9 percent of closed deals in the second quarter of 2017. In addition, the median sale price of franchise businesses in the second quarter was $232,500, slightly higher than the median $229,000 for all transactions.
So what do all these numbers and data points mean to you? Whether you currently own an independent or franchised restaurant…or are considering a move into this arena…NOW IS A GREAT TIME! The combination of increasing revenue, increasing cash flow and fewer days on the market all point to a trend that profitable restaurants and franchises are a solid short and long term investment. In the short term a buyer can be confident of sustainable, and likely increasing, revenue and income. In the long term asset values should grow to protect your initial investment.
Buying an existing restaurant, independent or franchised, takes much of the risk and guess work out of the process. With longevity, verifiable financials, and a negotiated lease in place, restaurant buyers/sellers can expect the purchase price to be somewhere between two to three times ODE (Owner Discretionary Earnings). Buying an existing restaurant is safer because you have an existing customer base. By knowing the sales and cash flow, you can determine the cash flow YOU NEED and shop for a restaurant that is currently generating the required earnings. Then you take your experience and motivation to grow it to the next level.
If you currently own a restaurant or are thinking about buying one, The Restaurant Brokers at We Sell Restaurants are here to answer your questions and assist. We are the Nation's largest Restaurant Brokerage Group and pride ourselves on our level of service and results. All conversations as well as our listing strategies are done to protect the confidentiality of our clients. Please contact us at 1-888-814-8226 or click this link to have a Restaurant valuation performed at no cost or obligation. You may be pleasantly surprised to learn what your restaurant is worth.