Franchise Times has issued their latest Development Deal Tracker. This great industry resource keeps tabs on expansion in the franchise world and new deals signed for multiple unit development. There is plenty of movement in the restaurant scene especially in the burger segment. Quoting directly from their Deal Tracker published on 5/29/2015, Franchise Times reports the following.
"Wahlburgers, a casual burger restaurant chain founded by celebrity brothers, Paul, Mark and Donnie Wahlberg, has signed an agreement with SSP America to operate restaurants at Boston's Logan and Toronto's Pearson airports. In addition, the Hingham, Massachusetts-based brand has extended its contract with New York-based Big Apple Burgers to build six units on Long Island, in addition to the five in Manhattan and one on Coney Island. Internationally, the restaurant with its own reality TV show, secured a 20-store deal with Middle East developer, the Arjomand Group. "We are very proud of the Wahlberg family for creating such a great franchise concept and we plan on making it a huge success in the Middle East region, Farooq Mahmood Arjomand, founding chairman and CEO of the Arjomand group, said in a release. Wahburgers units combine full-service with a bar and quick-service stations, plus take-out." The Wahlburger concept was featured on the cover of Franchise Times in the most recent May 2015 edition.
The Deal tracker further reports that "Three franchisee groups are joining Denver-based Smashburger for a combined commitment of 61 new better-burger restaurants. Regrub LLC will build 34 units in Tampa, St. Petersburg, Sarasota, Ft Myers and Naples, Florida over the next eight years. Moe's Southwestern Grill franchisees, Brad and Drew DeGrazia, have signed on to open 23 Smashburgers in upstate New York. Former McDonald's franchisees Paul and Kathleen Thaller will open four units in the Wilmington, New Bern and Jacksonville, North Carolina area."
What does all this new development mean? Well, according to the restaurant brokers, the market heating up with more units in the burger segment will continue to fuel an unsustainable trend with an ultimate shake out of units. This will take three forms:
1) Multi-unit Scale back. Multi-unit owners with ten stores or more will ultimately work to shed their lowest performing units. We refer to this as the "Jack Welch 20% rule" as it applies to franchising. There will always be those slightly outside the geographical reach or tracking beneath their forecasted sales for one reason or another. These units will come back onto the market as a re-sell opportunity. Often these stores will be offered first to existing franchisees (who are often willing to the pay the least amount for them) before going onto the re-sell market in the hands of firms like We Sell Restaurants. While they may not be profitable for a large multi-unit owner with a spread of corporate overhead into their books, they recast nicely for a single unit owner/operator.
2) Unfavorable Unit Economics. Smaller owners with one or two doors will find that the unit economics are not sufficient for their lifestyle or that they overspent on the build out and carry too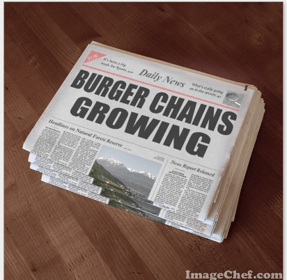 much debt. These units will also make it onto the marketplace and represent strong takeover targest for those who want into the brand but don't want the high upfront capital costs. They can be acquired at a significant discount over the intiital build out and with an investment in marketing and local "hands-on" type leadership can prove to be highly profitable.
3) Thinning of the Herd. Units placed too closely to competitors is a real risk with the number of upper tier hamburger brands all vying for market share. The number of concepts seeking real estate means they are ultimately settling too close to competitors and there will be some "thinning of the herds" and makes some of this growth unsustainable. These units will go back on the market and ultimately convert to another franchise concept or an independent.
The restaurant brokers love to see growth in the industry and are excited to see so many development deals in the mix. The "better" burger segment is getting highly crowded so we anticipate a shake-out in the field in the 18 to 24 months and a consolidation of some brands and others that will simply fail to meet their development goals.