The International Franchise Association or IFA in conjunction with Morning Consult has released a dynamite new survey about the high level optimism in franchising. The restaurant brokers have been seeing general research about small business optimism hitting eight year highs, but this is the first survey we've seen that focuses on the franchise community.
The survey was conducted online between May 22 – June 5, 2017, among a sample of self-reported franchise owners and potential franchise buyers/investors. Twenty-one percent of their sample was comprised of current franchise owners. The results are powerful.
The survey asked how likely prospective buyers are to invest in a business. Three in 10 (31%) are more likely to buy or invest in a business than six months ago while 4 in 10 (36%) are as likely as before. Combined, that means 62% of prospective buyers are as likely as or even more likely to buy business than six months ago. Since roughly 30% of all the franchise units are in the restaurant segment, that's good news for those of us selling restaurants today. Only two in 10 (19%) are less likely.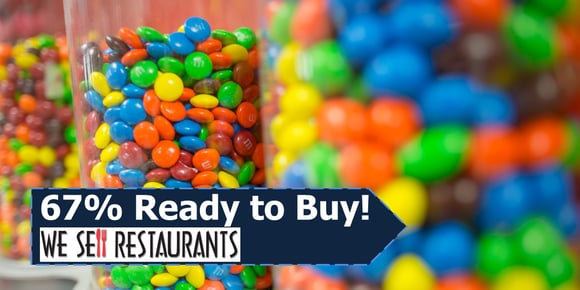 Those surveyed believe the economy is improving. Fully 38% of franchise owners and potential buyers say the economy is improving while half that number (19%) believe it is not. Of the ones that own franchises today, the result is even more bullish. 52% of those who own franchises today, says the economy is improving. Does that translate into actual spending to buy a restaurant franchise? The We Sell Restaurants results for the first half of the year say yes. We are seeing overall improvements in both unit counts and size of restaurants sold.
What about millennials? The survey found younger franchise owners and potential buyers/investors show high levels of optimism. Almost half (45 percent) of 18-34 year olds report being more optimistic, while only 15 percent of this age cohort is less optimistic.
While they may be ready to buy, they also had a few things on their mind that the government could do to help. A series of policy questions were posed for feedback. The data indicates on a policy level that two items are on the minds of franchise owners – taxes and regulation.
Two survey items reinforce the need to a reduction in regulation. 78% said we could improve the economy and the business prospects of the respondent by "Reducing red tape to make it easier to start a business." 75 percent of franchise owners and potential buyers believe reducing regulations on small businesses would improve the economy.
72 percent believe lowering taxes would improve the economy.
That's in line with what the restaurant brokers are hearing from the industry. Eric Gagnon, President of We Sell Restaurants said, "We are seeing growth in the first half of the year and optimism by buyers, lenders and sellers. Despite some soft restaurant sales data at the unit level, the fundamentals of owning a business have never been better and our buyer inquiries reflect that, in particular for franchise brands."
We Sell Restaurants is a restaurant brokerage franchise and the largest firm specialized in selling restaurants. All listings can be found online.