Is your restaurant search ready for prime time? The creator of Food Network's American Diner Revival is on a mission to find buyers opening their first restaurant. They have asked the Restaurant Brokers to make sure our clients know about this great opportunity.
The producers are hard at work casting and developing a new Food Network series about people preparing to open their first restaurant. It seems to us that there are great photogenic, fun and outgoing clients of We Sell Restaurants that would be perfect for this opportuity!
Do you agree? If so, pick up the phone or start emailing the producers. While this upcoming series sounds like a day in the life of a restaurant broker, it's a real opportunity to get prime time exposure for many of our clients. You must be willing to have the cameras follow you as you look for the right location, pick a menu and make decisions on décor to build the restaurant of their dreams!
Ready for Food Network? Email info@wesellrestaurants.com and we'll put you in touch with the producers. Make sure you mention that We Sell Restaurants and the Restaurants Brokers when you reach out to them. We're getting the popcorn ready to watch as our buyers take Food Network by storm!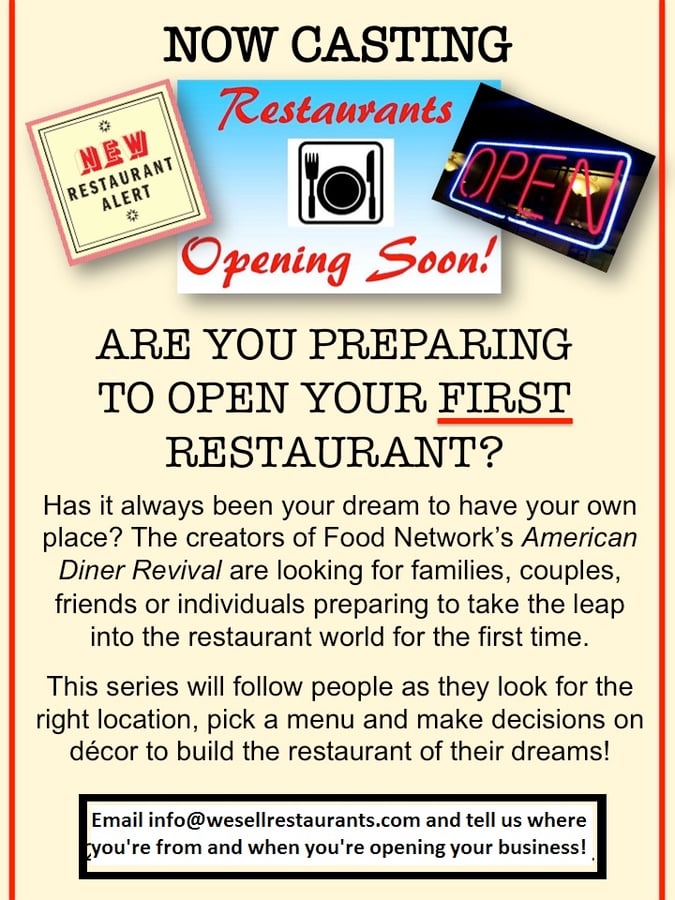 Want more information about this great opportunity? Email info@wesellrestaurants.com and tell us why you're perfect, when you're opening and what part of the country you're in. We'll forward your information direct to the producers.