Obtaining an E-2 visa is a great choice for an immigrant who is interested in purchasing a restaurant while concurrently pushing themselves ahead of the waiting list to enter the United States. So, what exactly is an E-2 visa? An E-2 visa can be obtained by citizens of countries with whom the United States has established a "treaty of commerce and navigation." The U.S. grants these qualified non-citizen restaurant buyers an expedited visa as they will be making a significant impact on the economy. An E-2 Visa is valid for two to five years and can be typically be indefinitely renewed as long as you continue to run the business and generate a profit. Not only yourself, but your spouse and any of your children under the age of 21 are covered by an E-2 visa.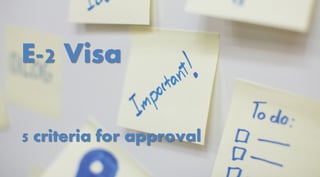 Not all countries will qualify for an E-2 visa, however. Countries including Australia, Canada, and Germany are reasonably simple to qualify for an E-2 visa; while Iran, Iraq or any other Middle Eastern country are more difficult. Furthermore, citizens of countries including Bahamas, Cuba and Iceland are unable to obtain an E-2 visa. To see if you qualify for an E-2 visa, visit the U.S Department of State website for a list of treaty countries here.
Once you have determined if your country is on the list of treaty countries, you (or the business) will need to fulfill the following five criteria to obtain your E-2 visa:
Your purpose of coming to the U.S. must be to invest in a new or existing enterprise. Overall, investing in a franchise will be viewed as more favorable by the U.S., however, any establishment may meet the requirements. Startups qualify, but get ready to put a lot of time and effort into obtaining an E-2 visa for startup purposes - the restaurant brokers have found that startups require a comprehensive business plan.
Your investment must be in a 'bona fide" enterprise - it can't be marginal. You will be required to prove that the establishment has been operating with an EIN (Employer Identification Number), files tax returns, has a lease, pays employees and vendors, has a license, etc. When you apply to obtain an E-2 visa the U.S. government will review all of these records in order to prove the business isn't marginal. The purpose of this review is to obtain proof that this business will produce "more than enough money" to support you and your family AND will make a significant contribution to the U.S. economy. If you're interested in investing in a restaurant for sale, nearly all of those that qualify for SBA lending will meet the requirements for an E-2 visa.
You must have 100% of the investment funds, and they must be solely pledged to the establishment. You will not receive any lending, therefore you must have the capital and it must be held in escrow with an attorney.
You must disclose how you obtained the funds. The U.S. requires a "clear and legitimate path" in regards to the source of your money being used to invest in the business. It is crucial that the money you are providing was not obtained illegally. As long as your money is being held by a financial institution, the U.S. typically considers this evidence that this requirement has been satisfied.
You must "develop and direct" your investment. If your plan is to purchase a restaurant in Pennsylvania and spend your time in the U.S. on a beach in Hawaii, you will need to think again. The government won't approve your E-2 visa request if you intend to be a "remote." The U.S. views your request for an E-2 visa as intention to come to the country to work and contribute to the economy, so you will need to have a corporation of operating agreement that state that you are in control of greater than 50% of the establishment.
There you have it! As long as you are able to conform to these five criteria, you're ready to apply for your E-2 visa. You will also want to ensure that you are using a reputable attorney, and be prepared to wait patiently - it may take three to four months between signing a contract and the actual closing, depending on your country.
Follow the following pointers from the restaurant brokers to ensure smooth sailing in your E-2 visa application process:
In order to ensure that your contract is written correctly, be sure to notify your restaurant broker that this is for an E-2 visa. If your restaurant broker is not aware of this, the seller will be unaware of this, and not all sellers will agree to the conditions of an E-2 visa.
If you're investing in a franchise, you must have the ability to enter and exit the U.S. prior to obtaining the establishment for the purpose of the franchise's Discovery Day and franchisee training. You will be returning to your native country at the conclusion of these events while you await the closing.
It is imperative that you select a well-established, reputable attorney who is seasoned in E-2 visas. The restaurant brokers will be happy to provide you with several referrals to attorneys we have used in the past for these transactions.
If you have any additional questions about obtaining an E-2 visa, please do not hesitate to reach out to the restaurant brokers. For a catalog of restaurants that qualify for an E-2 visa, clock the link below!