An E-2 visa can be a great way to buy a restaurant and simultaneously get to the "head of the line" when it comes to immigration status. How does it work? An E-2 visa can be obtained by citizens of countries where the United States has a "treaty of commerce and navigation." This allows restaurant buyers coming to the U.S. to get an expedited visa since they are making a substantial investment in the United States.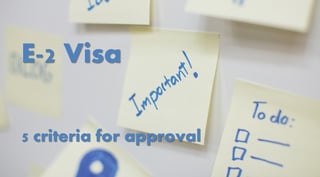 Not every single country in the world will qualify and for a list, you can visit the State Department website or the United States immigration website at this link. Admittedly, some countries are easier than others (easy, Australia, Canada, Germany while tougher – Iran, Iraq or any other Middle East country).
If you are originating from a nation with a treaty of commerce, you (or the business) has to meet five criteria to get this type of visa.
You have to be coming to the U.S to invest in a new or existing enterprise. The restaurant brokers have found that franchise operations tend to be looked at more favorably when establishing this criteria but any business can qualify. It can be a startup business but we find these to require much in-depth business plan.
The business investment must be in a 'bona fide" enterprise and can't be marginal. What does that mean? This is pretty straightforward. You have to show that the business has operated with a tax ID number, filed tax returns, has a lease, pays people, has a business license, etc. That means when buying a restaurant for an E2 visa purpose, you must have good books and records since everything has to be submitted for review to the government. To prove the business isn't marginal, you'll need financial statements, tax returns and/or a business plan that shows the business will produce more than a "minimal" living for you and your family or will create a significant economic contribution. If you're looking at restaurants for sale, virtually anything meeting the qualifications for SBA lending would be suitable for an E-2 visa.
You have to be in possession of all the funds to invest and they have to be committed to the business. There is no lending. You must have cash up front to buy the restaurant and 100% of the funds will have to be in escrow with the attorney.
You have to provide the source of funding. The U.S. government says they want a "clear and legitimate path" regarding the source of capital you're investing. They want to make sure the money you are spending didn't come into your control through criminal means. Usually if it's in a bank, that's good enough to demonstrate this requirement for buying a restaurant with an E-2 visa.
You have to "Develop and Direct" the business. There is no approval if you're purchasing the restaurant with a "hands-off" or absentee approach. The point of the visa is to make sure you are coming to the U.S. for this very purpose so you'll need to have a corporation or operating agreement that shows you control more than 50% of the business.
That's it. Meet those simple and straightforward five requirements and you're set to move to the front of the line and get your visa. Use a good attorney and anticipate that it can take between 3 – 4 months depending on the originating country between signing a deal and closing.
Here are a few quick tips to make sure you visa process goes smoothly.
First, make sure your restaurant broker is aware this is for a visa so the contingency can be pre-written into the contract. The seller needs to know that it is a longer path to closing and not all will agree to these terms.
Second, if you're buying a franchise, make sure you'll be able to enter and leave the U.S. in the interim as you will need to attend their Discovery Day and training, then leave to go back to your native country before returning to close on the restaurant.
Lastly, choice of your attorney is critical. Good attorneys have done this multiple times. Others are learning at your expense. Ask the restaurant brokers for a referral for attorneys that have handled multiple visas and have high success rates.
If you have questions about E-2 visas or need recommendations for an attorney, contact the restaurant brokers and we can put you in touch with some excellent resources. For a list of restaurants that will qualify for a visa, visit our restaurants for sale at this link.