It took less than 60 days to find a buyer and close on this Cinnabon Franchise Bakery for Sale by the Restaurant Brokers at We Sell Restaurants!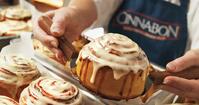 "Franchise restaurants for sale always get more attention" says restaurant broker Eric Gagnon of We Sell Restaurants. They sell quickly and for top dollar when they are established and operating. This Cinnabon location at Perimeter Mall was no exception; listing and selling in less than two months.
The buyers, Doreen and Kwabena from Ardnek Foods, LLC described their experience with We Sell Restaurants in this brief video.
The Cinnabon brand has been ranked in the Top 200 by Nation's Restaurant News, in Entrepreneur Magazine's Franchise 400, by Restaurants and Institutions Top 300 Chains and ranked in the Top 400 by Franchise Times. Baked goods leave customers ready for more with such favorites as their famous Classic Roll, Minibon, Cinnabon Bites, Caramel Pecanbon, CinnaPacks and Cinnabon Stix -- all made with our signature Makara Cinnamon - as well as specialty beverages like the Mochalatta Chill and various flavors of Chillattas frozen beverages.
Like this article? Click the links above and SHARE on Twitter, Linked In or Facebook.